It's been quite a while since we first penned our list of "The Ten Greatest Finishing Moves in MMA" and a lot has changed in the time since. While some of our choices are even more relevant now than they were when the list was originally published in April of 2011, most of them seem either inaccurate or simply out of date in light of current circumstances. Knowing what we know now, we've decided to update our list to align with today's MMA landscape. Enjoy. 
#10 – Matt Mitrione's Football Tackle


Matt Mitrione has evolved into quite the knockout artist since his time on TUF 10, and it's easy to see why: He's incredibly light on his feet for a man his size and is easily one of the most purely violent punchers in the heavyweight division. All the man named "Meathead" needed was a little refinement, go figure. That being said, two of Meathead's last three KO victories have come less by any sort of striking technique and more by a football-style collision of two giant dudes (phrasing). His 19-second finish of Philip De Fries at UFC on FUEL 9 was the first knockout to come by way of hip thrust in UFC History and his recent win over Derrick Lewis at Fight Night 50 looked like something between a forearm shiver and a
In any case, it's obvious that Mitrione's professional football past has largely aided his MMA present, and we hope to one day see him score the KO via Goldberg Spear he has been working towards for years now.
#9 — Thales Leites' Overhand Right 

We know, right? Who could have possibly foreseen that Thales Leites — he of UFC 97 and butt-flopping fame — would become a legitimate knockout artist some five years removed from his ill-fated title fight with Anderson Silva? But that's exactly what's happened in his second UFC run, proving once and for all that you really can teach an old dog new tricks.
Following decision wins over Tom Watson and Ed Herman, the BJJ Black Belt has notched impressive KO wins over Trevor Smith and the once highly-touted Francis Carmont (aka Frankie Cars) via the classic overhand right. And we know what you're thinking, "Anyone can throw any overhand right. Anyone." And you're right, it may not be the flashiest punch in the book, but if Big Country can make a career of it, why can't Tally Leites?
#8 — Donald Cerrone's/Holly Holm's Head Kick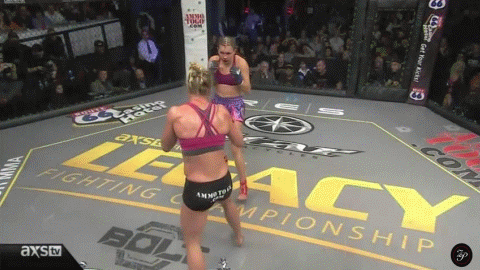 While Cerrone may prefer the right and Holm the left, these two have gone on pretty unprecedented streaks in the head kick department as of late, with Holm collecting 2 of her past 4 wins by the technique (with 1 in that span also coming by body kick KO) and "Cowboy" picking up head kick KO wins in 2 out of his past 3 (over Adrian Martins and Jim Miller).
Now that Holm has signed with the UFC, it looks like we are one step closer to seeing these two reenact the "Ring the Bell" scene from Rocky 3 that this world deserves.
#7 — Jon Jones' Elbows

We legitimately feared for Daniel Cormier's life when Jon Jones started dropping them thangs during their brawl at the UFC 178 media day. When Bones isn't training his 'bows to slice up faces in the octagon, he's more than likely using them to carve smuggled blood diamonds into precious gems (which are then sold by Chris Weidman), and his five round butchering of Glover Teixeira at UFC 172 merely confirmed this.
Honorable mention: Cormier's Random Task shoe attack. 
#6 — Ben Saunders' Omoplata

(Robin Black breaks down Saunders' omoplata in typically awesome fashion.)
Things couldn't have gone much better for Ben Saunders in his UFC return at Fight Night 49 last month. Taking on late replacement opponent Chris Heatherly, Saunders turned an early mistake into the first omoplata finish in UFC History, and boy oh boy was it nasty. When imagining what must have been going through Heatherley's head as he was having his arm twisted into a pretzel, we can only recall the words of comedian and masochistic pain artist Jim Norton:
"I feel like I have to shit…That was the worst one ever."
#5 — Emanuel Newton's Spinning Backfist 

He might not have been looking that great against Joey Beltran in the moments leading up to it, but we'll be damned if Emanuel Newton's second spinning backfist knockout under the Bellator banner wasn't even more vicious than the first, and the first one made King Mo go full Groot for Christ's sake. You never go full Groot.
Perhaps the greatest thing about Newton's backfist is the manner in which he throws it, which at best seems like an afterthought and at worst seems like a guy casually swatting a bee off his mailbox. Newton has simply run out of fucks to give when it comes to highlight reel knockouts, to the point that he doesn't even care to look his opponents in the face while delivering them. It's taking the concept of a walk-off knockout to a whole 'notha level is what it is.
#4 — Hendo's H-Bomb

A finishing move that truly needs no introduction, Dan Henderson's H-Bomb reintroduced itself to the world at Fight Night 38 regardless, pancaking Shogun Rua's nose and closing the book on one of the most improbable comeback victories in UFC History. Did you know that he also used it to knock the piss out of Michael Bisping at UFC 100? We've mentioned it a time or two around here, but are just making sure.
#3 — Ronda Rousey's Armbar Judo Slam + Storm of Hammerfists
Screw the armbar, DID YOU SEE WHAT SHE JUST DID TO THAT POOR LADY?!
#2 — Alistair Overeem's Nosedive/Tumble 

The hard truth is, there is no move on this list that has had more of an impact on a fighter's career than Alistair Overeem's patented nosedive and semi-conscious tumble to the mat. In the span of less than a year, the move was almost solely responsible for Overeem's plummet from "Can-Crushing He-Man" to "Second Biggest Bust of All Time", and was in no finer form than his most recent upset loss to Ben Rothwell. The best part: He's already ready to show it off again! Not since the Flair Flop has a fall from grace been so graceful!
Of course, if Overeem's nosedive ranks at #2, it means that only one move can logically rank above him…
#1 — Ben Rothwell's Celebratory Jig

If the final moments of his UFC 164 fight with Brandon Vera didn't prove the effectiveness of Ben Rothwell's celebratory jig (a.k.a The Hillbilly Seizure Attack), his massive upset of The Reem earlier this month surely did.
According to our local interpretive dance expert George Shunick, Rothwell's jig can best be described as "a cross between a native Wisconsin mating dance and a mild stroke." In any case, Rothwell has used the power of dance to overcome almost impossible odds on two separate occasions now — like a hairy, redneck Billy Elliot (Hill-Billy Elliot?) — and has easily earned the top spot on this list because of it. LALALALALA CAN'T HEAR YOU!!!!
Honorable mentions: Chris Beal's flying knee, Tim Kennedy's dry hump, BJ Penn's hidden monk stance (lol!)