#5: War Machine
Arrested for: Assault

He beat up people outside of a gym. He beat up people at a gay club. He beat up people at a porn star's birthday party. But somehow War Machine (formerly known as Jon Koppenhaver) managed to avoid jail time until another violent episode in San Diego, which ended with a spit bag and a one-year sentence. Thanks to his hilariously idiotic prison blogs, it's like he never left.
#4: Joe Son
Arrested for: Five felony counts of rape, two felony counts of forcible sodomy, two felony counts of sodomy in concert by force, seven felony counts of forcible oral copulation, and one felony count of sexual penetration by foreign object by force.

In May 2008, the UFC old-schooler and actor pled guilty to felony vandalism, which required him to submit a DNA sample. The sample wound up connecting Son to a horrific unsolved gang-rape from 1990. Along with a second suspect, Son was accused of dragging a woman into the back of a car on Christmas Eve, pistol-whipping her, threatening her life at gun point while he counted the bullets in his gun, and raping her repeatedly before releasing her naked with her pants tied around her eyes. We're not sure where Son is at the moment, but we hope it's nowhere good.
#3: Jarrod Wyatt
Arrested for: First-degree murder

To be honest, we'd never heard of this dude until he was arrested. 1-0 as a pro and 1-0 as an amateur, Wyatt's brief MMA career came to an end when he drilled a hole into his sparring partner's chest, removed his heart, tongue, and most of his face, then cooked the body parts in a wood stove. Wyatt was reportedly under the influence of psychedelic drugs, and became convinced that his friend was the devil. The gruesome story went viral, with every news outlet making sure to include the phrase "MMA Fighter" in the headline. Ouch. On the bright side, it made for a great Taiwanese animated news clip.
#2: Quinton "Rampage" Jackson
Arrested for: Felony hit and run, felony evading arrest.

After losing a light-heavyweight championship bout to Forrest Griffin at UFC 86, Rampage Jackson decided to drown his sorrows at the bottom of countless energy drinks, not knowing what a fatal cocktail dehydration and sleep deprivation can be. And then it gets weird. While behind the wheel of a customized Ford F-350 — which conveniently had his face plastered on the side — 'Page played bump 'n' jump with at least three other cars in a freaked-out joyride through Orange County. Cops tried to detain the reckless prize fighter but he refused to stop, even driving on rims after his tires blew out. Eventually, Rampage was forced out of the truck at gunpoint. Jackson wound up doing just 200 hours of community service and then went on to star in The A Team, which allowed him to cause public suffering on an even larger scale. A lawsuit filed by a woman who claimed she suffered a miscarriage after her vehicle was struck by Jackson's was later dismissed in court.
#1: Lee Murray
Arrested for: Epic bank robbery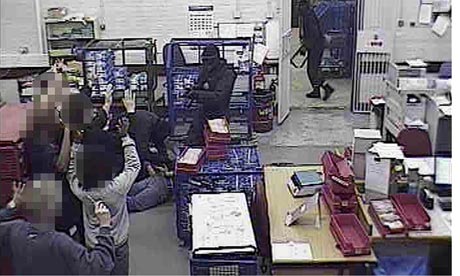 Batman had the Joker. Superman had Lex Luther. Dana White has Bob Reilly. Chuck Liddell, Ken Shamrock, and Jenna Jameson all have Tito Ortiz. Humanity has Lee Murray. In what was the largest bank heist in the history of the United Kingdom, the former UFC/Cage Rage fighter masterminded the kidnapping of a bank worker and his family in the process of stealing £53,116,760 (over $86 million). Man, you'd think with that amount of money the U.K. could hire a few dentists and wrestling coaches. Kidding aside, Murray might have gotten away with it if he hadn't crashed his car before the robbery and fled the scene, leaving behind his cell phone which contained an accidentally recorded conversation between him and a co-conspirator. After four months on the run, Murray was apprehended in Morocco, where he's currently serving a 25 years prison sentence. A movie based on Murray's life is reportedly in the works.
Honorable mentions: Ricco Rodriguez, Chris Leben, Patrick Smith, Wesley "Cabbage" Correira, Hermes Franca, Josh Neer, Melvin Guillard