(Perfectly legal, mind you.)
Ah, the good old days — when men were men, women were women, and ballsacks could be repeatedly pummeled inside the Octagon without Big John McCarthy doing a damn thing about it. Above, of course, is the fateful UFC 4 fight between Keith "By Any Means Necessary" Hackney, and Joe Son (who later appeared as Random Task in the first Austin Powers movie). By the late '90s, rule changes had made mixed martial arts look somewhat civilized, and dozens of attacks/holds/gouges were deemed verboten. But regrettably, accidents still happen. And now, our favorite "accidents" ever…
7. Anderson Silva upkicks Yushin Okami

Before The Spider was the deadliest dude in the UFC, he was just a guy trying to get Yushin Okami the fuck off of him at Rumble on the Rock 8. His knockout kick was a crowd pleaser, but unfortunately he was DQ'd on a technicality — Okami's knees were down.
6. Andrei Arlovski rabbit-punches Marcio Cruz
After back-to-back losses at the hands of Tim Sylvia, Arlovski was dying for a win, and he wasn't above fighting dirty to get it. When the opportunity presented itself at UFC 66, the Pitbull started whaling on the back of Marcio Cruz's head. Herb Dean gave him a warning. Arlovski kept doing it. Herb Dean warned him again. Arlovski kept doing it. Herb Dean stopped the fight and gave Andrei the win. Love that Herb Dean.
5. Roger Huerta knees John Halverson in the head
A 19-second knockout win is pretty damn impressive — even if it is total horseshit. But hey, we can look the other way for a poster boy.
4. Wes Sims stomps Frank Mir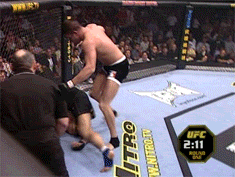 Sims momentarily thought he was in a PRIDE ring during UFC 43 and stomped Mir out for a DQ loss. Mir would have his revenge in a rematch seven months later, knocking Sims out fair and square.
3. Quinton Jackson headbutts Ricardo Arona

To the announcers and audience at PRIDE Critical Countdown 2004, it was Rampage's dramatic power-bomb slam that put Arona's lights out. Arona, however, claimed it was the illegal headbutt directly after that caused the K.O. We'll call this one unintentional, but the cuts on Jackson's face at the 2:33 mark of the video do kinda look like they were made by teeth…
2. Mike Kyle soccer-kicks Brian Olsen

What the hell got into this guy? Mike Kyle let the warrior spirit overtake him at WEC 20, as he ignored the rules outlawing soccer-kicks and punching unconscious opponents after the fight has been stopped. Absolutely brutal. Whatever 'roids he was on, I want a month's supply.
1. Gilbert Yvel knocks out referee

Notoriously dirty fighter Gilbert Yvel has bitten Karimula Barkalaev and eye-gouged Don Frye, but nothing compared to his November 2004 match with Atte Backman, in which he actually punched out a referee who got in his face one too many times, then kicked him while he was down. Apparently, it's always illegal to strike a ref (even if his knees are off the ground) and Yvel picked up his third loss by DQ. Kudos, Gilbert — you're a credit to the sport.
Did we forget any good ones? Let us know in the comments section.