(This is why B.J Penn still wakes up some nights in a terror, convinced that he's covered in Vaseline and his own blood.)
Whether we want to admit it or not, excuses are as much a part of mixed martial arts as Tapout tees and fist-pose photographs. They have to be. In a world where you must talk yourself into believing that you're either the baddest man in your weight class or else on your way to becoming it, a loss is something you have to find some way to reconcile, or else have your identity destroyed. That other dude couldn't have won just because he was the better fighter. No, surely there's a reason for this temporary setback, and chances are it's very detailed and probably a little bit ridiculous.
In honor of the post-defeat excuse in MMA, we give you ten of the worst and weirdest attempts to explain away an ass-kicking. They aren't necessarily untrue (though some are demonstrably untrue), but neither can they turn that L into a W. The best you can hope for is that they make sleeping at night just a little easier for the people who uttered them.
10. Mark Coleman couldn't afford a proper training camp

(Don't forget those elbows to the back of the head, either.)
Who beat him: Mauricio "Shogun" Rua
When: UFC 93, 1/17/09
Why: When Mark Coleman gassed out like a car owned by Mark Coleman against "Shogun" Rua in his return to the UFC, we initially assumed it was a sign of age. The man was forty-four years old, after all, which for some guys is the age where a strenuous day of yard work can land them in bed for a week. But Coleman cited a different reason after the fight, saying, "I didn't have any money for a training camp before this fight. Those things cost money and I just couldn't afford it."
Why it's plausible: Coleman is notoriously and permanently broke. Also, you saw how bad he looked in that fight, right?
Why it isn't: Whether he could afford Randy Couture's customized diet and trampoline gyms or not, Coleman knew he was headed into a pro fight and it was his responsibility to prepare. Plenty of broke fighters working side jobs at Jiffy Lube manage to get in shape, and without the promise of a big payday. It shouldn't be so much to ask for a UFC Hall of Famer to do the same.
9. Quinton Jackson was poisoned by the Japanese

Who beat him: Kazushi Sakuraba
When: PRIDE 15, 7/29/01
Why: After building a name for himself in King of the Cage and Gladiator Challenge, Quinton Jackson was invited to make his PRIDE debut against Japanese superstar Kazushi Sakuraba. Rampage put on an entertaining show — and nearly tossed Sakuraba out of the ring at one point — but eventually succumbed to a rear-naked choke. Discussing the bout six years later, Quinton suggested that the odds may have been unfairly stacked against him: "I remember my stomach feeling like I swallowed a brick. I still, to this day, think that somebody poisoned my room service or something like that. I was happy that it was my biggest paycheck to date, but I know they brought me there to lose. They made me lose all this weight when PRIDE didn't even have weight classes. I knew there was no way I could win. But I knew I couldn't turn back and not fight."
Why it's plausible: PRIDE had a notoriously shady reputation, with rumors of fight-fixing popping up over the years. Sakuraba was the league's hero, and the promoters certainly wanted him to defeat the large, scary-looking gaijin with the chain around his neck. Maybe they did take measures to tilt things in Saku's favor.
Why it's not: "Poisoning" is a heavy accusation to throw around when Jackson's loss could be explained in so many other ways. That brick in his stomach could have been nerves. (Going from regional shows in the States to the Saitama Super Arena will do that to a person.) He could have been jet-lagged. Maybe the room-service staff was simply unfamiliar with the preparation of pig's feet. Or maybe he just got handled by one of the greatest grapplers to ever play the game.
8. Wes Sims was fighting two people in the cage that night

Bobby Lashley vs Wes Sims – Strikeforce Miami by chuteboxe57
Who beat him: Bobby Lashley
When: Strikeforce – Miami, 1/30/10
Why: It may have been no surprise to fans or oddsmakers that Lashley ran through Sims like he was just a white Bob Sapp, but what we didn't know until after the fight was that some illegal tactics were to blame. Sims insisted that Lashley's thumb to the throat was the difference-maker in the fight and, when coupled with the ref's supreme incompetence, caused the unjustified loss. When confronted with that accusation later on, even Lashley had to admit it was pretty funny stuff.
Why it's plausible: The ref did warn Lashley about the thumb to the throat, and Sims probably could have continued taking a beating if he had to.
Why it isn't: Sims wasn't prepared for this fight and offered no offense of his own. A thumb to his throat may have been annoying, but it's not like it halted what was sure to be a fight-ending attack on his part. Take the money and go home, Wes.
 7.   Tito Ortiz had a cracked skull

Who beat him: Forrest Griffin
When: UFC 106, 11/21/09
Why: To hear Ortiz tell it, he's pretty much never gone into a fight without an existing injury that ranges somewhere between debilitating and downright life-threatening. In his return to the UFC after a back surgery that was supposed to have fixed him up as good as new, he lost a close decision against Griffin, only to reveal that he'd had a "cracked skull" going into the fight.
Why it's plausible: He did have a really bad black eye before the fight, and his head has its own gravitational pull, so objects are very likely to collide with it.
Why it isn't: Not only was there no mention of this cracked skull in the post-fight medical suspensions released by the NSAC, but it's hard to imagine them licensing a fighter who's skull is suffering from structural integrity issues.
6. Karo Parisyan was too talented to train, bro

GoofyDiazvsKaro by tangental

Who beat him: Thiago Alves
When: UFC Fight Night 13, 4/2/08
Why: Though he always struggled to finish fights, Karo Parisyan was widely considered to be a top-10 welterweight leading up to his showdown with Thiago Alves, and had already notched decision wins over Nick Diaz, Chris Lytle, Matt Serra, and Ryo Chonan, among others. But the Pitbull's striking was just too good that night in Broomfield. Shortly into round two, Alves floored Parisyan with a knee to the face, and piled on punches until Steve Mazzagatti pulled him off (perhaps a little prematurely). Parisyan was pissed at the outcome, but understood what he had to do differently in the future: "My worst enemy has always been that I've been too talented to train, and now it's catching up with me. I gotta start training or those guys will start catching up with me."
Why it's plausible: For the record, this is an idiotic excuse. But that doesn't mean Karo Parisyan didn't believe it. Not only was he incredibly talented as a judo practitioner, he was conceited enough to believe that he could rely on talent alone. Anybody who can deliver the line "Do you know who I am?" with a straight face might be susceptible to hubris.
Why it isn't: Are we really supposed to believe that a guy who went 9-2 in the UFC didn't train? Like, at all? Later we found out that Karo had been dealing with anxiety attacks and a growing dependence on painkillers; indifference towards training was the least of his problems. But when you're a proud Armenian, it's easier to just tell people you lost because you're too awesome.
5. Kalib Starnes ran a marathon on a broken foot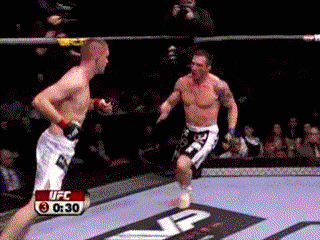 Who beat him: Nate Quarry
When: UFC 83, 4/19/08
Why: Kalib Starnes's performance against Nate Quarry was one of the most pathetic showings in the history of combat sports. Seriously, David Gardner laughs at this guy. Kalib may have showed up in a literal sense for his UFC 83 meeting with Quarry, but he didn't come to fight, and what ensued was three rounds of Quarry chasing him around the Octagon as Starnes refused to engage, culminating in a technique that later became known, infamously, as "The Rockhammer." Starnes's subsequent UFC firing surprised nobody, though his explanation for the apparent cowardice raised some eyebrows:
Right now, I have a broken foot [that] I sustained with the first kick I threw in the fight. My leg is purple and black from my knee up, I have a black eye, a sprained jaw, and [Dana White is] questioning my desire to fight? If that isn't enough to satisfy him and the crowd, I can show them the medical report. I can barely walk. [Quarry] totally destroyed my thigh with those kicks. I'm sure a lot of people would rather see me suffer a traumatic brain injury and be rendered unconscious. That's too bad. If that's what they want, they're paying the wrong guy $10,000 to get his brain smashed in…I don't have anything to prove to anybody. I'm not about to stand there and get smashed to pieces. After I knew my foot was broken, I was trying to back up and work off the jab and keep moving so I didn't get knocked out.
Why it's plausible: Only a total fucking pussy would run away like Starnes did unless he had an injury that prevented him from attacking. How else would you explain it?
Why it's not: Starnes didn't seem injured or impeded in any way during the fight; you'd expect him to at least favor his other leg if one foot was broken. Also, this gif shows that Starnes threw more kicks after the one that allegedly broke his foot. The second half of Starnes's explanation hints at what really happened: "They're paying the wrong guy $10,000 to get his brain smashed in…I'm not about to stand there and get smashed to pieces." Fine, so he doesn't like to get hit. It makes you wonder why Kalib's high-school guidance counselor suggested he go into professional fighting in the first place.
4. Quinton Jackson hadn't eaten in three days


("I guess I could go for a cheeseburger, now that you mention it.")
Who beat him: Wanderlei Silva
When: PRIDE 28, 10/31/04
Why: This one's not so much an excuse for losing as it is an unbelievably misguided strategy for winning. Sometime before Quinton Jackson's PRIDE rematch with arch-nemesis Wanderlei Silva, Rampage was "touched by Jesus in a dream" and became born-again. Josh Gross tells the story like this:
While the first month of balancing his new-found faith with everyday life was a cakewalk, the same could not be said for the second month. After reading on the Internet that fasting would keep the devil away, Jackson abstained from food for three days, ingesting only water and keeping details of his diet secretive. What Jackson didn't realize was his fast had depleted his body and virtually killed any chance of defeating Silva. An inspired opening round gave way to fatigue in the second for Jackson, while Silva, not needing any kind of edge to begin with, brutally beat Rampage until he was unconscious and lay motionless between the ropes.
Why it's plausible: Because Rampage is as crazy as hell, and because he repeated the ill-advised fasting act four years later when he stayed up for a few days ingesting nothing but energy drinks, leading to some car trouble in Costa Mesa.
Why it's not plausible: As a devout Christian, Quinton Jackson may not have counted meals eaten off of strange women.
3. BJ Penn was a victim of grease/steroids

Who beat him:Georges St. Pierre
When: UFC 94, 1/31/09
Why: B.J. Penn suffered an entirely one-sided beatdown at the hands of the welterweight champ, but he refused to believe that it was due to anything so mundane as a difference in size, strength, or conditioning. Instead he took what appeared to be a minor and perhaps incidental application of Vaseline on GSP's back and chest and turned it into the biggest deal he possibly could. Seriously. As in, he even brought his mom in to his hearing with the athletic commission, and shot down any suggestion that the grease didn't matter:
To the untrained eye the grease might not look like much, but every grappler knows the effect that it has. Being able to apply your submissions and sweeps or just being able to hold on to your opponent to defend yourself from being hit is absolutely critical! There is a reason why you are not allowed to put grease anywhere on your body except for the area around your eyes.
And for good measure, he also said it was "just [his] opinion" that GSP uses steroids, though he acknowledged that he had no proof of this.  Basically, GSP used every foreign substance except for Mr. Fuji's blinding salt in the eyes to win this fight illegally.
Why it's plausible: We all saw the same hand that applied the Vaseline to GSP's face then move on to rubbing his body without being wiped off. There's also the testimony of several former opponents that GSP felt 'greasy.'
Why it isn't: The amount of Vaseline that made it to the man's body was relatively minor, and let's be real, a little bit of petroleum jelly wasn't the deciding factor in that fight. As for steroids, well, there's absolutely nothing but a flawless physique to base that one on. Until he fails a test or sees a dramatic increase in the size of his head, we'll have to take him on his word that he "never take the steroid."
2. Tiki Ghosn lost due to a cut


Who beat him: Robbie Lawler
When: UFC 40, 11/22/02
Why: Any asshole can concoct a ridiculous excuse after a bad loss. It takes a special kind of douchebag to deny that he got his ass kicked in the first place. Tiki Ghosn is just that kind of douchebag. During the first round of their meeting at UFC 40, Robbie Lawler dropped Ghosn with a right hook, then clearly — clearly — knocked him out with a follow-up shot. Referee Nelson "Doc" Hamilton saved Ghosn from extra brain damage by tackling Ruthless, but Tiki was less than appreciative when he regained his senses. During the post-fight interview, Tiki was asked if he would take back previous comments that Lawler was overrated, to which he responded, "Nah, I got a cut, they stopped it 'cause of a cut." As the crowd booed in amazement, Ghosn added, "He's tough, and I won't take nothin' away from him." How generous of you, Tiki.
Why it's plausible: Ghosn did sustain a very nasty gash over his left eye from one of those fight-ending punches.
Why it's not: The cut wasn't the reason that Hamilton jumped in, you dummy. The fight was stopped as soon as Ghosn went limp. Of course Tiki doesn't remember that part because he was sleeping, but that doesn't mean it didn't happen.
1. Ricardo Arona has almost never gotten a fair shake

Who beat him: Several people
When: Back in the good ole Pride days
Why: Some artists work in clay or oils; Ricardo Arona works in excuses. When "Rampage" Jackson slammed him into the land of wind and ghosts, an illegal but surreptitious headbutt was the real culprit. When he lost to Sokoudjou, he was suffering from dengue fever. When he got knocked out by "Shogun" Rua he was tired from his earlier fight that night, and when he lost a split decision to Wanderlei Silva he was obviously screwed by the judges. Really when you get down to it, almost no one has beaten Arona fair and square. If you take away his loss to Fedor Emelianenko (who is a weight class above his, don't forget), the man's pretty much undefeated in legit fights, making him more or less the best fighter ever when conditions are ideal.
Why it's plausible: Does it matter? If you make excuses after every loss, no one cares anymore whether they're justified. You become the boy who cried dengue fever.
Why it's not: See above.
Honorable Mention: "Cyborg" Santos misses weight due to woman problems, Nick Diaz misses weight due to accidentally ingesting salt water while swimming, Matt Lindland lost to Fedor Emelianenko because he grabbed the ropes, and Rich Clementi had no idea that high altitudes could effect athletic performance.
Did we miss any?  You know you're just dying to tell us about it in the comments, so come on.  Let's see what you got.