(It turns out Miguel was actually making grape jokes, which I have no problem with whatsoever.) 
By Nathan "The 12ozCurls" Smith
Here at CP, I see "us" as a bunch of cynical, condescending, annoyed class-clowns that have a genuine love for the sport of MMA. We love great fights and enigmatic fighters, it's really that simple. Whether it is a fighter's personality or in-ring performance, we try our best not to be "nut-huggers," but sometimes these things happen in MMA (Damn you Georges!). Because I wanted to curb any bias towards fighters that I might have, I tried my best to not be like a 14 year-old girl, so I avoided Twitter like an invitation to a Mike Whitehead BBQ – but I have given in. Not to the invite, but to my status as a new member of Twitter, and I must admit, there are some pretty damn compelling, comical, and surprisingly elegant MMA fighters that can wax poetic in 140 characters or less.
"Opinions are like assholes. Everybody has one and they think everyone else's stinks."  I believe that phrase was coined by Sigmund Freud or the Dalai Lama…or George Carlin. Whoever came up with the analogy was clearly a genius with a tremendous affinity for "Dirty" Harry Callahan. So take a big whiff because these are the MMA fighters that I think you should be following on Twitter with a few examples from their recent timelines.
Kenny Florian - twitter.com/#!/kennyflorian

We were all introduced to KenFlo on TUF 1. Although he was somewhat overshadowed by more flamboyant participants and in-house scuffles, he's elevated himself within the UFC as one of its most versatile members. Whether as a fighter or broadcaster, he displays his wit and charisma like a true pro, but on Twitter he mixes in self-deprecation with an almost narcissistic vibe.
"When I'm being threatened, I will start doing splits to let ppl know what's up. I always get mistaken for a talented dancer or gymnast."
"Is a bow tie & no shirt too formal for a charity event I'm going to next week?"
"Guys, stop putting high expectations on fighters. @rory_macdonald didn't steal my hairdo, he borrowed it. #Respect"
"If you've never taken a man's shoe & beaten him with it then you've never been in a street fight. #KenFloFacts"
Mark Hunt – twitter.com/#!/markhunt1974

Though the #RallyForMarkHunt campaign fell short, the Super Samoan's twitter activity has not. Unlike most, Hunt is a lot more personable and will reply to damn near any question. When asked, "Do you EVER stop consuming alcohol?" He replied, "never." Scripps probably won't be sending him an invite to their next competition but it can't be easy typing on a mobile device when your fingers have the same girth as beer bottles.
"Man last time I saw Jo son he was trying to pull the other fighters pants down hahahaha u didn't know bout that style of fighting lol"
"dammit disregard my last tweet man that was not supposed to go out lol i am so stupid at this shit fark"
James Thompson - twitter.com/#!/JColossus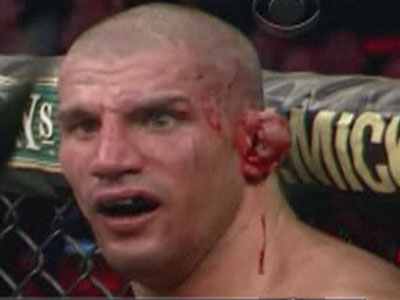 We all know the MegaPunk and judging by the way he fights, I am pretty sure that most would assume that the guy communicates like a caveman with a brain hemorrhage. Nothing could be further from the truth. Not only is he a Twitter dynamo who answers questions and responds to fans, he writes a very cerebral blog at colossalconcerns.com where he discusses all things MMA.
"Gf got me working the door again for her bar for some night. So tired I could cry. Sometimes i wish I was small and not so colossus like."
"After working the door last night I'm curious and slightly disturbed/confused about what young people have against socks."

"Needed to burn more calories today so set a fat kid on fire."

"Who the fuck decide it would be cutting edge and cool not to be able to digest wheat properly. #neversawthatcoming"
Josh Barnett - twitter.com/#!/JoshLBarnett

If you are into MMA, Heavy Metal music, food binges, and muscle cars, then the artist formerly known as "The Baby-faced Assassin" is a guy to follow. Not only will he advise you on your current metal play-list, he will also describe his odd meals complete with pictures. A couple weeks ago, Barnett documented his destruction of a menu item called "Symposium of Ecstasy"- a giant meat platter intended on offending every vegan or member of PETA.
"Query: How long will it take before some rapper has taken 'Someone That I Used to Know' & ripped it off into 'Someone That I Used to F#@!'"
"Goddamn I LOVE Don Frye. The man has a way with words."
"A gay dude just eyeballed me, smiled and said "hi" while walking by…I still got it. #handsomedevil"
Dan Hardy - twitter.com/#!/danhardymma

"The Outlaw" always puts on entertaining fights, and after reading his tweets you will quickly realize that there is another reason why he wasn't released by the UFC after 4 consecutive losses: he just seems like a pretty damn cool guy. Whether it is his escapades at the gym, his late night excursions to Target or the fact that he is a gun aficionado, Hardy comes off as a dude you want to have a pint with while theorizing your plan for the looming attack by the undead.
"I think Twitter should have a teleport function so instead of blocking someone I could show up wherever they are and beat them mercilessly."
"Floyd Mayweather is such a dick. I dislike him a little more every time I hear him speak."
"Police checkpoint on the way home from the gym, trying to catch the stoners because its 4/20. Tax money well spent right? #WhatAWaste"
"On a side note kids – Guns are for self defense, target practice, action movies and the coming zombie apocalypse. Not for problem solving."
Forrest Griffin - twitter.com/#!/ForrestGriffin

Being an author of 2 books and having a sense of humor that could make a nun blush really gives FoGriff an advantage in this medium. What more could you expect from a guy that dressed in a loin cloth on one of his book covers? Answer: On Twitter you can get a picture of a spread-eagle Forrest dressed like SuperGirl in front of a casino slot machine.
"The other thing is real life prostitutes never look like the ones on tv"
"I want to sincerely apologize for my last tweet. I did not mean to say prostitute I meant to say sex worker. There much better"
"Homework: next time someone casually says hi say 'your death will give me great pleasure' or 'your death will bring me great joy'"
"Did you here UFC fighter @StephanBonnar was arrested for loitering at a public highway reststop restroom"
Tim Kennedy - twitter.com/#!/TimKennedyMMA


There are some that think Tim may be the next person fired for his Twitter contributions but I enjoy the crap out of him. He is active with his tweets and judging from some of the things that CP has covered, he clearly doesn't take himself too seriously. Although he is too politically motivated for my taste, Kennedy is still a worthwhile follow.
"Professional politicians, hippies, zombies, brussels sprouts, cheap furniture, cutting weight, and one ply toilet paper #ThingsIDislike"
"Dr. Phil please email me. Tim@rangerup.com I want to coordinate punching some sense into you! You are an idiot."
"Whenever I want to renew my concern for our country I just go down to the Starbucks by the university and fear for our future."
"They should let @BrianStann and I head to North Korea to straighten some things out."
Pat Barry -twitter.com/#!/HypeOrDie


Barry may have the greatest twitter wallpaper/background image in all the land and apparently his CAPS LOCK key is stuck. Aside from being generally hilarious, "HD" was pretty active with the tweets during last weekends Invicta FC with good insight mixed with comic relief. Don't forget, he did give us one of the greatest video clips ever.
"FUCK TREADMILLS!!!"
"NOT SURE IF THIS IS A BAD SIGN BUT I WOKE UP, ATE, DRANK A REDLINE, THEN INSTANTLY WENT BACK TO SLEEP HARDER THAN I SLEPT LAST NIGHT!!!#fb"
"I WONDER IF ALL THE PEOPLE CONSTANTLY ASKING ME TO SUPPORT THIS HUNT RALLY ARE ASKING MIR AND CAIN TO HELP SUPPORT ALSO???"
"I'LL SUPPORT THE RALLYFORHUNT AS SOON AS EVERYONE ASKING ME TO SUPPORTS RALLYFORHD WHICH IS JUST GIVE ME THE TITLE WITH NO FIGHT!!! DEAL???"
I am not delusional and in no way do I think that I know these dudes because they answered a question or sent out one of mine as a retweet, but Twitter does give you a better understanding of some of the combatant's personalities. Although social media is a hand grenade without a pin, when used responsibly, it gives althletes and fans a way to interact. I recommend Twitter to follow fighters especially during live events because you can't get a better source for in-fight analysis. If I know the CP community, I am about to get treated like Ned Beatty in Deliverance.
So Potato Nation, who did I leave off my list?