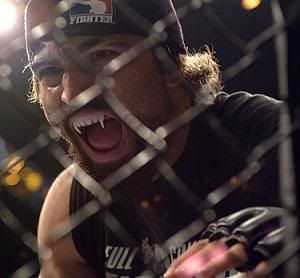 (Andrei Arlovski could be one paid motherfucker tomorrow.)
Our monthly roundup in which we express fight predictions via the UFC's customary "Of the Night" payouts. Last time didn't go so hot, but we have a good feeling about UFC 82. Again, here's the lineup:
MAIN CARD
Anderson Silva vs. Dan Henderson
Heath Herring vs. Cheick Kongo
Chris Leben vs. Alessio Sakara
Yushin Okami vs. Evan Tanner
Jon Fitch vs. Chris Wilson
PRELIMINARY CARD
Andrei Arlovski vs. Jake O'Brien
Luke Cummo vs. Luigi Fioravanti
Josh Koscheck vs. Dustin Hazelett
Diego Sanchez vs. David Bielkheden
Jorge Gurgel vs. John Halverson
Fight of the Night: How could it not be Silva vs. Henderson? It's rare that the Octagon hosts this much combined talent. We see this one going into the championship rounds, with both men pounding the hell out of each other along the way. As you know, we're leaning toward Silva.
Knockout of the Night: Andrei Arlovski. Other MMA pundits have said that the undefeated O'Brien will grind his way to a lay-and-pray victory, but Arlovski is coming into this fight with the combined rage of 10,000 insulted Soviets, and he'll be looking to prove that undercards are beneath him. There's a chance this could be his last fight for the UFC, so putting an exclamation point at the end of his Octagon career would be a priority; we'll say KO/TKO, round 2. Dark horse: Jon Fitch. His fight against Chris Wilson may look like a mismatch, but Wilson's ground skills are underrated. Still, we see Fitch putting Wilson out on his feet early.
Submission of the Night: Josh Koscheck. Speaking of mismatches…Koscheck's recent performances haven't been awe-inspiring, and he knows he needs a dramatic win against the gift-wrapped Dustin Hazelett, who's never faced an opponent as skilled as Kos; it's looking like a first-round armbar. Dark horse: Sanchez over Bielkheden. Same deal as with Koscheck — Bielkheden is being brought in for his UFC debut to build Sanchez's confidence, and on paper, Sanchez's ground game scores much higher. But if Ali Sonoma is still fucking with his concentration, we'll stop short of saying this is a guaranteed win for Nightmare…
See it differently? Let us know in the comments…