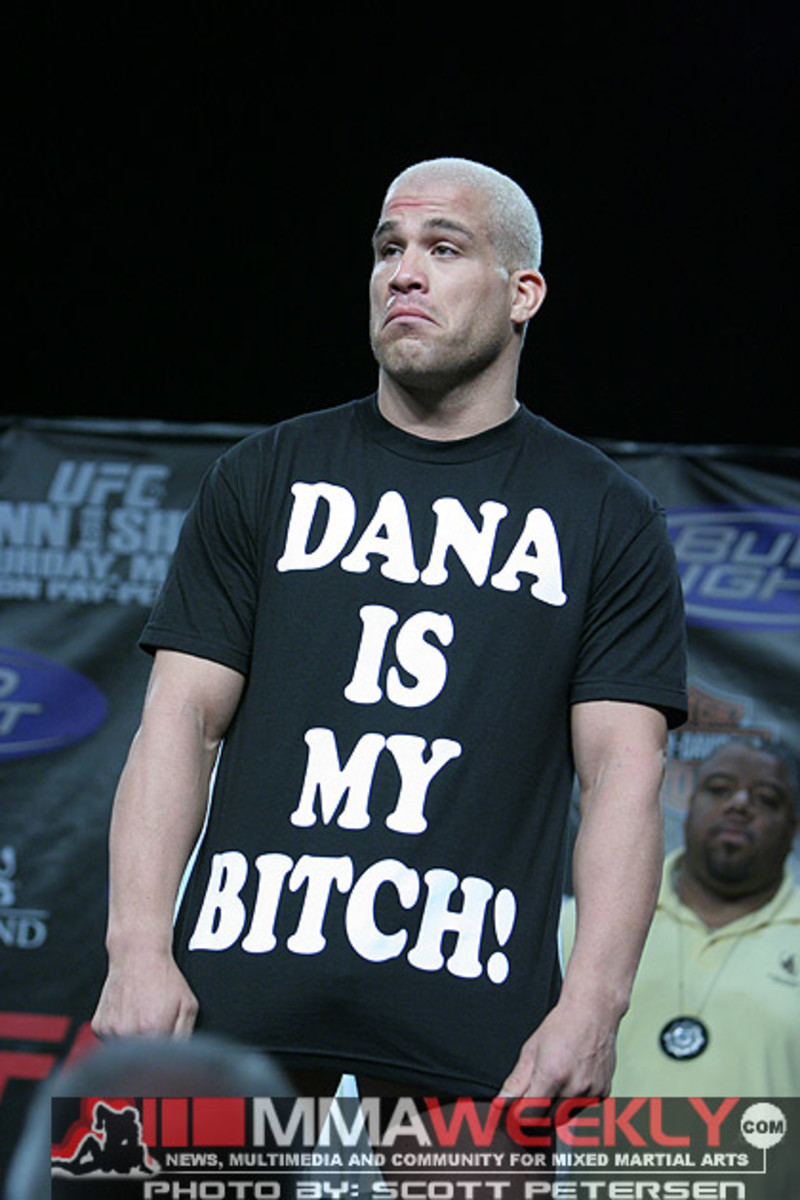 (Compromise: The key to any successful relationship.) 
In what is more than likely the UFC's way of attempting to get anyone more of us interested in the upcoming trilogy match between Forrest Griffin and Tito Ortiz, a fight that will be Ortiz's last inside the octagon, it has been announced that none other than "The People's Champ" will be inducted into the UFC Hall of Fame (as previously reported) prior to their scheduled bout at UFC 148, which goes down on July 7th.
Dana White spilled the beans to MMAWeekly, most likely because we were totally busy at the time. White stated that, despite the pair's rough history, Ortiz had more than earned his place amongst the legends of the sport, due in part to his ability to generate interest in MMA during the UFC's dark days:
 He pound for pound was doing some of the most damage at a time when we were hurting. But it's part of our history the way the storylines played out between me, Chuck and Tito. He's definitely a part of the history of the sport. 
As you can see by the header photo, the beef between White and Ortiz has long since been squashed. The beef between Ortiz and Griffin, on the other hand, has been elevated to levels we previously deemed impossible, as the TUF 1 winner recently went all Jason Miller in a recent interview and claimed that if he were to lose to Ortiz at UFC 148, he would more or less kill himself. At least that's what we took away from it.
Here's what FoGriff told UFC.com:
I've got people asking me, they say, 'Forrest, it's Tito's retirement fight. If you lose to Tito, are you going to retire?' If I lose to Tito, I'm going to retire from life….seriously.
Although Griffin has hinted that his retirement from MMA is no too far off, retiring from life?! Who then will we have to entertain us after the inevitable apocalypse comes for us all? Please Forrest, we beg you to reconsider. Just in case, you know, this statement comes back to bite you in the ass.
And speaking of asses, former UFC Middleweight champion Frank Shamrock recently made an appearance on Rebellion MMA Radio to take a nostalgic look back at his career. Go figure, the man with the balls to nickname himself "The Legend" made the claim that the UFC Hall of Fame would not be "legit" until he was inducted into it. Modesty, folks, it's how you succeed in life.
Here's the whole interview, in which Shamrock discusses everything from the Pacquaio/Bradley travesty to his arm-breaking loss to Cung Le back in 2008, brought to you in astoundingly mediocre quality. The discussion begins around the 2:15 mark.