Last week at UFC on FOX 15, we watched in awe/horror as Chris Camozzi was mercilessly sacrificed to the Brazilian alligator god they call Jacare, all in the name of "our entertainment." The fight was like watching a car wreck play out in slow motion — if one of the vehicles involved was a Smart Fortwo and the other a Caterpillar 79 – but hey, Some Fight is Better Than No Fight, Amiright? (copyright UFC 2016)
But Camozzi was not the first man to ever be brought into a no-win situation for one reason or another. Throughout MMA History, there have been fighters who served little other purpose than to make their opponents look all the more impressive. They're called sacrificial lambs, and with an ever-expanding schedule constantly being undermined by ever-increasing injuries, even the UFC has been forced to call on them from time to time. So with all that in mind, let's take a look back at some of the more notable fall men in MMA history.
#8: Jake O'Brien
Fed to: Andrei Arlovski, Cain Velasquez, Jon Jones, Gegard Mousasi
Resulted in: Loss (TKO), Loss (TKO), Loss (sub), Loss (sub)
Jake O'Brien occupies a unique space in the world of sacrificial lambs, in that he was obliterated by a former heavyweight champion, a future heavyweight champion, *and* a future light heavyweight champion (Arlovski, Velasquez, Jones) in the span of just over a year. So perhaps "unique" isn't the most accurate way of describing it. Brutal, perhaps. Soul-crushingly depressing, even. But it wasn't just the UFC that used O'Brien as cannon fodder, no. Two years after his departure from the promotion, O'Brien was similarly sacrificed to Gegard Mousasi in his DREAM debut, lasting just 31 seconds before being choked damn near to death.
#7: Elvis Sinosic
Fed to: Tito Ortiz, Forrest Griffin, Michael Bisping
Resulted in: Loss (TKO), Loss (KO), Loss (TKO)
He may always have that submission win over Jeremy Horn to his credit, but when all is said and done, Elvis Sinosic will be known for three things:  a terrible nickname, a worse record, and that time he let some dude chin him in the eye.
"The King of Rock and Rumble" fought an astounding 7 times in the UFC, with his only victory in that time coming via the aforementioned sub of Jeremy Horn in his promotional debut at UFC 30. Sinosic's upset victory that night was impressive enough to earn him a completely undeserved title shot against Tito Ortiz next, and if you're wondering how that fight ended, just utter the phrase "Elvis Sinosic vs. Tito Ortiz" and choose the first image that pops in your head. That image is correct.
The loss to Ortiz marked the last time that Sinosic could claim to be a .500 fighter, yet he kept getting asked back to the UFC, for some reason. His successive UFC bouts would see him trounced by Evan Tanner, battered by Babalu Sobral, and trampled by a pair of TUF winners in Forrest Griffin and Michael Bisping. Yet he kept being asked back. In 2010, Sinosic was expected to rematch Chris Haseman (aka the dude who chinned him in the eye) at UFC 110 until he was forced out of the bout due to a last-minute shoulder injury. We fully expect to see his name pop up on the UFC's next Australia card.
#6: Takenori Sato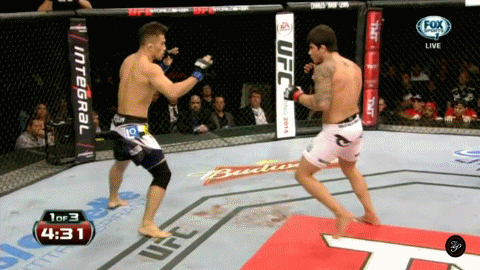 Fed to: Erick Silva, Hyun Gyu Lim
Resulted in: Loss (KO), Loss (KO)
You see that absolute nonsense up there? That's what happens when a 30-fight veteran realizes that he is so outclassed by his opponent that begging for mercy is his best route to victory. Takenori Sato, apparently under the impression that he had entered a bull-riding contest mid-fight at Fight Night 36, grabbed onto Erick Silva's leg for dear life and waited for the 8-second bell to sound. Even as Silva began raining down punches on his skull — as if to say, "Hey man, you know we're fighting right now, right?" — Sato refused to abandon his patented Thigh Choke of Ultimate Victory until he was separated from consciousness some 15 seconds later.
Likely because he had single-handedly cheapened the UFC brand with his performance that night, Sato was fed to an even more dangerous opponent in Korean badass Hyun Gyu Lim next. His strategy for that fight? THE EXACT SAME THING.
#5: TIE: Josh Hendricks, Dan Evenson, Sean Salmon, etc.


Fed to: Gabriel Gonzaga, Cheick Kongo, and Rashad Evans, among others
Resulted in: Lots of lost memories
The term "can-crusher" is an oft-used one in the MMA, but how often do we focus on the cans in that scenario, and not the men/women doing the crushing?
I'm talking about guys like "Heavy" Hendricks, Dan Evenson, Sean Salmon, Mustapha Al Turk, and so on — guys who share a common trait in that they were all locally-sourced unknowns who were brought into the UFC with the obvious endgame of being beaten by one of the promotion's go-tos. If any of these guys got a good shot in or two, good for them. Hell, they might even be invited back for a second beating. But none of them were called up to the big leagues because they were believed to be the next Jon Jones or even a potential journeyman. They were called up to forever be immortalized in the highlight reel of their opponents, and on this day, we give thanks.
On the "next page": A one-gloved boxer, a stonery TUF alum, and the entire nation of Japan…