10. Ricardo Almeida guillotines Rob Yundt (2/2/08)
After almost four years away from the game Ricardo Almeida returned at UFC 81 to take on Alaska's Rob Yundt. The Gracie fighter wasted no time getting it to the mat and when Yundt tried to reverse postions he locked in a guillotine choke with one arm inside. Yundt thought he'd just slam his way out, but Almeida wasn't having it. He used the momentum to flip Yundt over and then finished the choke from the top position at the 1:08 mark. Smooth, bra.

9. Yoshiyuki Yoshida chokes out War Machine (5/24/08)

Japan's Yoshiyuki Yoshida made his UFC debut at UFC 84 against the man then known as Jon Koppenhaver. Yoshida locked up an anaconda choke less than a minute into the first and Koppenhaver, alpha male that he is, declined to tap and instead took a pleasant little nap. Okay, so it's only a technical submission, and not the fanciest finish you'll ever see, but damn was it satisfying. War (or Mr. Machine, as he's known down at the bank) would later get chucked from the UFC for making stupid comments about Evan Tanner's death and for refusing a fight with Brandon Wolff. Yoshida would go on to get knocked into a Zen-like peacefulness by Josh Koscheck.
8. B.J. Penn squeezes the juice out of Joe Stevenson (1/19/08)
We all knew Joe Stevenson was probably in for a rough night when he faced B.J. Penn at UFC 80, but we didn't expect him to come out of it looking like an extra in a horror movie. First Penn opened a deep gash on Stevenson's forehead with one of a series of nasty elbows, then he locked in a rear naked choke and squeezed until the
blood came squirting out of Stevenson's head
. Got pretty good height too. After the fight Penn really set a bad example for all the kids out there, hygiene-wise, by licking Stevenson's blood off his gloves. Stevenson, well, let's just say
he took the loss hard
.
7. Fedor Emelianenko makes a commercial out of Tim Sylvia (7/19/08)

Fedor Emelianenko vs. Tim Sylvia – Watch more free videos
Maybe not the craziest submission ever, but it makes the list for sheer domination factor. Fedor Emelianenko needed just thirty-six seconds to tap out Tim Sylvia, first landing a few punches to put him "on queah street," in Tim's words, then finishing it with a modified, trachea-crushing rear naked choke. Sylvia would later admit to not knowing exactly what kind of choke it was, but admitted "it hurt like hell." I'm sure Affliction would say the same thing about what it felt like to pay you $800,000 for that performance.
6. "Jacare" Souza cranks Zelg Galesic's arm (9/23/08)

It's no secret that Jacare knows his way around a submission, but this one against Zelg Galesic at Dream.6 was particularly pretty to watch. It starts with Souza just owning Galesic on the ground, working his way into mount like it's just part of his warm-up routine. It's when Galesic thinks he's escaped that things get rough. The leg comes over and next thing you know Galesic is doing his best telegraph operator impression: tap, tap, tap.
5. Nate Diaz's double-bird triangle choke of Kurt Pellegrino (4/2/08)

This memorable finish also made our "greatest showboating moments" list, and it deserves to be on here too because it's just that sweet. Diaz got tossed around and beaten up by Pellegrino for the first seven or eight minutes of this fight, but when he got careless during a big slam he left himself open. Diaz saw the opening and locked on a triangle choke without even bothering to pull Pellegrino's head down for the finish. His hands were busy giving the old "Stockton heybuddy" to the fans in attendance at the Broomfield Event Center, but Pellegrino tapped anyway. Never say Nate Diaz can't multi-task.
4. Mitsushiro Ishida sweeps and submits Justin Wilcox (9/20/08)

The scene was the Playboy Mansion. Strikeforce was the organization. Justin Wilcox went looking for a single-leg and got something else entirely. Ishida locked on the figure-four and then flipped Wilcox right into position for the armbar, finishing off the kind of submission that usually only works in theory. Don't beat yourself up about it, Justin. We didn't see it coming either.
3. Demian Maia's triangle choke poundage of Ed Herman (4/19/08)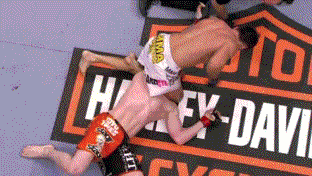 It was a given that Maia would make this list. The only question is, for which sub? We like this triangle choke with a side of face-smashing that he pulled off against Ed Herman. It's the most efficient way of ensuring that for one reason or another, your opponent will either quit or lose consciousness. Herman decided on the latter, and that's his choice, you know?
2. Shinya Aoki invents the Aokiplata (6/15/08)

It's no secret that we're fans of this crazy little son of bitch in tights, and this inventive finish is a big part of why. While sitting pretty in the mount against Katsuhiko Nagata at Dream.4, Aoki showed us all that the gogoplata isn't just for stoners and people utilizing the guard. He simply slipped his foot across Nagata's face and presto! Why didn't we think of that?
1. Dustin Hazelett turns a whizzer into an armbar (6/21/08)

As part of his attempt to win more Submission of the Night bonuses than anyone else, Dustin Hazelett pulled off this beauty against Josh Burkman at the TUF 7 Finale. It starts with a whizzer/ankle pick takedown, then Hazelett figures, what the hell, and jumps into an armbar. Honestly, they just don't come much slicker than that.
Those are our favorites. Feel free to tell us about yours in the comments section.