(UFC 3′s Emmanuel Yarborough and Miley Cyrus: They may seem like a strange pairing at first, but then you spend some time with them together and you're like "okay, I totally get it now.")
By Matthew "The Fight Nerd" Kaplowitz
Japan has brought us so many great imports, be it giant robots, cartoons about ninja children dressed in bright colors (which sort of defeats the purpose of being a stealthy ninja), tentacle rape, and Pocky. Truly, their greatest offering to America has been the freak show fight. As we discussed last time, Japan was the country that legitimized the art of pitting two mismatched opponents in a ring and convincing us that this was the greatest thing since Steven Seagal invented the front kick.
If there's one thing we Americans don't like, it's being shown up by a foreign land. So it was just a matter of time before an American promoter stood up and said, "You know what? I want to see a man that weighs a quarter of a ton fight a dwarf!" And that was how our first freak show fight was born. Well, not really, since we have better athletic commissions in America, but after reading this list of the "Top Ten American Freak Show Fights That Were Actually Good," you might think otherwise. Let's get it on!
10. Tim Sylvia vs. Wes Sims
Superbrawl 38, 12/12/04


In a rare battle between two giants, 6' 8" Tim Sylvia stood almost eye to eye with Wes Sims, who had a two-inch height advantage over "The Maine-iac".  Sylvia had fought another tall man, Gan McGee, the previous year at UFC 44, but this fight is far more entertaining. You would probably expect an evenly contested bout between these two, due to the height and their similarly aggressive tactics (both guys even used the same song for their entrance, go figure). For some reason that will never be known, Sims decided that he was the smaller man in this fight and would fight accordingly.
Sims inexplicably began to hit and run, ignoring his slight reach advantage and instead opting to pretend he was Daiju Takase fighting Emmanuel Yarbrough. Then Sims chucks his strategy right out the window, leaps in the air and throws a punch at Tim that makes me begin to question the lesson plans at The Hammer House more and more. In an even odder move, Sims actually pulls guard, and if that was not strange enough, he does it while hanging off the top rope! It was downhill from there as Sylvia pounded his way to a win, but things didn't end after the bell rang. After the fight, the vertically-endowed duo almost got into a second fight, and to this day the bad blood between them has not cooled off.
9. Eric "Butterbean" Esch vs. Sean O'Haire
Pride 32, 10/21/06

Another staple in Freak Show Fights, Eric Esch has seen his fair share of freaky matches, and here he fights on the grandest stage of them all, Pride FC, in their first American show. It would only make sense for him to fight a former pro-wrestler, who most wrasslin' fans should be very familiar with.
This bout was originally supposed to be between "The Bean" and Mark Hunt, but Hunt was forced out at the last minute as he had just beaten Wanderlei Silva and Mirko Crocop, and logically the Nevada State Athletic Commission wouldn't sanction a lopsided contest against Butterbean, whose last fight was his defeat against Ikuhisa Minowa. This created an opening for the former WCW and WWE tag-team champion Sean O' Haire to take his place.
O'Haire comes from a Muay Thai background, and had fought previously in K-1, where he garnered an unimpressive 0-3 kickboxing record. O'Haire aggressively charged at the immovable object, but there was not enough irresistible force in all of O'Haire's body to topple this neckless behemoth. It took all of 29 seconds for Esch to crumble O'Haire like feta cheese on a Greek salad and claim victory.
8. Tank Abbott vs. Scott Ferrozzo
UFC 11, 9/20/96

Vintage UFC moment here, as the final UFC event before weight classes were added featured a match between David "Tank" Abbott and Scott "The Pitbull" Ferrozzo. A quick history lesson on Ferrozzo; Scott debuted at UFC 8 in the "David vs. Goliath" tournament, and met Lion's Den fighter Jerry Bohlander in another early freak show bout. Despite being nicknamed "The Pitbull", I used to call him "The Great Pumpkin" since he made his entrance in a giant orange tarp that made me imagine what the titular character from that Charlie Brown Halloween special would look like.
Abbott and Ferrozzo met in the semi-finals of UFC 11, as Ferrozzo replaced Bohlander who hurt himself in his fight against Fabio Gurgel. Here were two sluggers, both looking for a head-hunting brawl, and this fight was what the bloodthirsty fans in Georgia were looking for. Believe it or not, the fight went the distance with Ferrozzo taking the win by decision, but he too was also unable to move on. Trash-talk between these two fighters continued even after the fight, and has to this day. Last year, rumors floated around that after 15 years, Abbott and Ferrozzo would meet once more this month in fact, but it appears that is not happening (or at least not yet).
As for the rest of the show, UFC 11 was a disaster in terms of the end result, as this tournament ended with Mark Coleman winning purely because they had used up all their back-up fighters and no one was left who was uninjured. And that is why we don't get too many one-night tournaments these days…
7. Bobby Lashley vs. Bob Sapp
Ultimate Chaos, 6/27/09

No list of freak show fights would be complete without Bob Sapp, who took the number one spot in our previous list. This time, he returns higher up in his match against former WWE wrestler, Bobby Lashley.
To be fair, Lashley does have legit wrestling credentials, but his opponents by this, his fourth fight, were far from credible for a man being pushed as hard as he was. The fight is formulaic — Sapp gets taken down before he can swipe one of his grizzly bear paws at Lashley's face and spends the rest of the fight clutching for life from half-guard until he has had enough and taps out…
That is, if the ref had seen him tap the first time. Instead, the ref ignores this whimpering plea to yield and lets Lashley drop some more bombs on Sapp's head. It takes another 20 seconds or so for the ref to realize he tapped to finally break it up. That's the equivalent of the security guard in your apartment watching you struggle against a mugger, who then stabs you twice in the ribs, takes your wallet, gropes your girlfriend, and flees, when finally that guard puts down his copy of "FHM" and asks, "What's going on here?" The referee here is Houston Dorr, who we must now congratulate. Good work, Houston. You fail at stopping failure.
And yet, that wasn't the only oddball novelty match at 'Ultimate Chaos' — there was another great freak show fight that you probably forgot about.
6. Tom Atencio vs. Randy Hedderick
Ultimate Chaos, 6/27/09

Atencio is the owner of the massively successful Affliction clothing line. This was actually Atencio's second MMA fight, his first a victory over David Martinez back in 2005. His opponent, Hedderick, was taking the third bout of his career, and truly his highest profile bout still. Atencio showed a ton of heart and toughness in this battle, being knocked down in the first round by a kick to the face, and still pushing on to continue and take the fight by the end of the second round.
Since then, Hedderick continues to fight and according to Sherdog's Fight Finder, he won his last match, making his record 2-6. But don't let the numbers fool you as Randy is a tough fighter with a bring-it attitude — even though sometimes, that attitude ends up leaving him on the canvas!
This event was held two months before the infamous Affliction: Trilogy event, which ended up not happening for a variety of reasons (use the search function if you're unfamiliar with the story). Why would Tom take a fight before what could have been one of the biggest MMA shows in the US? Because he can. How many other promoters/ major business owners would take a fight that close to their own show, let alone take a fight at all? One man: Tom Atencio.
5. Tim Sylvia vs. Ray Mercer
Adrenaline MMA 3, 6/13/09

Wait, another Tim Sylvia fight? Isn't one enough? Don't worry, this is the one where he loses… badly… to a washed-up, over the hill boxer.
The match was originally going to be a six-round boxing match, but someone thought it would be a better idea to make it an MMA match, and Mercer agreed to it in what most critics assumed was his cry for an assisted suicide. Instead, it turned out to be career suicide for Tim, as just nine seconds (and one groin kick from Sylvia) later, Mercer had knocked out the former UFC champ cold.
This fight remains as Mercer's greatest moment in MMA, considering how few he has. Mercer has now begun a career as a magician, thrilling fans last year at King of The Cage: Merciless with his disappearing act a week before his fight with Ron Sparks, which ended up not happening due to a mysterious thirteen year old injury that he conjured up.
And while I am doing segues into fights…
4. Ray Mercer vs. Kimbo Slice
Cage Fighting Fury Championship 5, 6/23/07

Yeah, you knew Kimbo had to make this list somewhere! "The Youtube Sensation", who was making his MMA debut, faced off against Mercer (also making his debut) in an exhibition bout that didn't count on their pro records. But that did not stop a packed house of 7,300 fans to crowd into the Trump Taj Mahal in Atlantic City to see this. The night was marred with a dead crowd who leered at anything that was not Kimbo and many fights broke out in the audience. It was a pity, since the event had some great fights with up and comers like Jim Miller, Gregor Gracie, Lyman Good and Nick Catone.
Mercer vs. Slice was like watching two rhinoceroses clash, which was almost true when the two fighters nearly trampled referee Dan Miragliotta. In spite of the early rush, Kimbo fought the smarter fight, using knees and taking Mercer down. Mercer managed to scuttle to the top briefly, which was just enough time for Kimbo to lock in a guillotine and end this insanity. Mercer, being a newcomer to MMA, raised his fist to punch Kimbo after tapping out. Luckily, Big Dan brought order to the cage just in time as Slice leapt onto the top of the fence and posed for his new audience; the Kimbo era had begun.
Also noteworthy, but not a freak show fight, was the outcome of Dante Rivera vs. Alexis Aquino, which Rivera won by a heel hook and caused a brawl between the two fighters camps and a near-riot in the arena. CFFC has recently returned and if you live in the East Coast, it's definitely a show worth checking out. It does provide quality fights — it just happened to produce one infamous freak show.
3. Keith Hackney vs. Emmanuel Yarborough
UFC 3, 9/9/94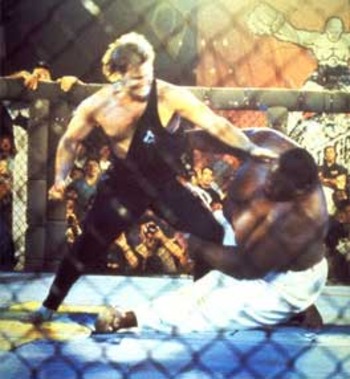 Old school! If you really think about what makes a freak show fight, the entire first batch of SEG UFC shows were freak show fights. The concept was pitting different martial artists against each other in a clash of styles, a unique idea and one that led to so many insane mismatches that we have grown to love.
This is the Grandfather of all American Freak Show Fights, as little 200 lb. Kenpo Karate fighter Keith Hackney took on Emmanuel Yarborough, who tipped the scales before crushing them completely at 600 lbs. In reality, Yarbrough was said to weigh about 700 lbs. by early UFC producer Campbell Mclaren. It doesn't take long to see the force this sumo wrestler had, as he nearly breaks the UFC Octagon door straight off its hinges (granted, that thing was held together by duct tape back then).
Hackney pushes on and valiantly throws his bare fists back at this monster of a man. Call it luck, call it fate, call it a plan coming together, but somehow Hackney landed a solid palm strike to the big man, dropping him on all fours. Hackney beat on Yarborough until the big sumo could take no more, allowing the giant-killer to move on in the tournament. Sadly for Hackney, he broke his hand from punching the sumo early on — he was actually using his entire arm like a club to bludgeon the big man — and was forced to withdraw. But Hackney gave us a fight that MMA fans will always remember.
2. Don Frye vs. Ruben Villareal
King of The Cage: Predator, 5/13/06

"When I hit somebody, I hit them hard. The people in the front rows, they better watch out." – Don Frye
If there is one thing Don Frye is incapable of, aside from trimming the source of incalculable power that grows under his nose and above his upper lip, is put on a boring fight. He simply does not know how to do it. It would be like telling Lyoto Machida to stop drinking his own urine; impossible!
After nine years, Frye stepped back into the cage on American soil to face Native-American Ruben "Warpath" Villareal, who might be the closest we get to a fighter most similar to "The Ultimate Warrior". He's a few ants short a picnic in the promos that he cuts, and how many fighters are allowed to fight while wearing face paint?
Just by looking at Villareal, you know you are in for something special, and this fight delivers some serious hard-hitting action! Granted, this match features much more clinching and ground work than our previous list's Frye entry — his brawl against Takayama — but I like to think of this fight as a "what if" match, as in "what if Don Frye and Takayama fought with some strategy instead of wildly smashing their fists into each other's face?" I imagine this would be what that fight would look like. The two fought to a draw after three rounds of back and forth action and this could have easily topped this list if not for one other match…
1. James Toney vs. Randy Couture
UFC 118, 8/28/10

Here is a freak show match that was elevated to co-main event status, and also the most recent match to happen on our countdown (which shows how tremendous it was to earn a spot this high on my arbitrary list).
Toney, a multiple-division boxing champ, decided to start a campaign of harassment towards Dana White to get himself a fight in the UFC. After months of prodding, White finally gave in and gave Toney his match, which wound up being against a multi-division UFC champ, Randy Couture. The place would be Boston, Massachusetts at UFC 118, and it was in the TD Garden that history would repeat itself.
The event drew over 14,000 fans to see the match that many thought could be the end of MMA if Couture lost. Thankfully, reality prevailed as Couture dispatched Toney with an arm-triangle choke in 3:19 of the first round, in a match eerily similar to Royce Gracie's win over Art Jimmerson at the very first UFC event.
This match just goes to show you the power of hype that can come behind a freak show fight, purely based on curiosity between a bizarre match-up. You would think we would get tired of seeing the same tired results, but every now and then, something surprises even the most jaded fans. And sometimes, it's just plain fun and what's wrong with that?
Honorable Mentions
Tim Sylvia vs. Mariusz Pudzianowski
Moosin, 5/21/10

This does not make the list because the title is freak show fights "that were good". Sylvia vs. Pudzianowski was an interesting scrap, for sure, but Sylvia had better ones as you saw and I don't think you can consider this much of a fight after the first 90 seconds.
I was there live for this fight in Worcester, Mass., and the event in person was actually great, especially with the supporting fights like Roxanne Modafferi vs. Tara Larosa, Mike Campbell vs. Yves Edwards, Rafael Natal vs. Travis Lutter, and a few others. The energy in the arena for the main event was electric, and I was cageside and quickly noticed how the guardrails kept creeping up closer and closer until I could smell the breath of the drunken Polish fans behind me.
The fight was not worth talking about, but it gets a place on this list just for me personally because it was crazy being there live and hearing the entire arena (made up of mostly Polish fans) turn on Mariusz once he began to butt flop, making Tim the new de facto hero of Polish MMA…until Mariusz fought Butterbean in KSW.
Brock Lesnar vs. Hong Man Choi
K-1 Dynamite!! USA, 6/2/07

Why does this fight get an honorable mention? Because it never happened, but man, imagine if it did! This could have been the king of the freak show fights, but no, Choi had to get a tumor or whatever and Lesnar instead fought Min Soo Kim in a dull match that saw him crush the juice out of a tomato can with little effort. Lesnar went on to become a UFC champion and Choi went on to appear in Korean films & TV, and also had his tumor removed.
Matthew Kaplowitz is the editor of TheFightNerd.com. He also is a featured columnist for MMA Worldwide and TapouT Magazines.