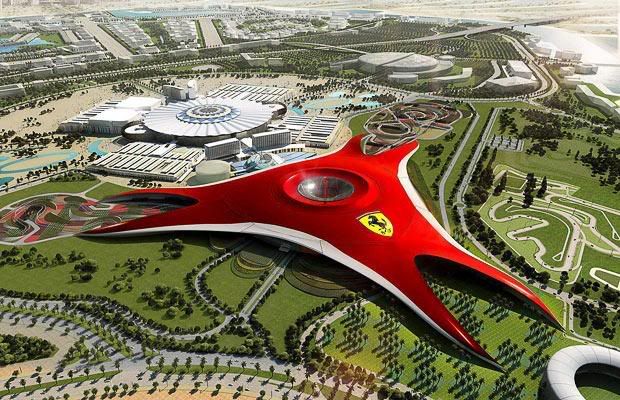 (Ferrari World artist's rendering courtesy of skyscrapercity.com)
After weeks of private negotiations and public vagueness, the UFC has finally confirmed that their April 10th show will indeed take place in Abu Dhabi, home of their new partners at Flash Entertainment. Though concerns about the venue delayed the event's official announcement, an existing outdoor stadium was eventually selected over the gravel-pit setup that Marshall Zelaznik had been touting. From the press release on UFC.com:
UFC to make history in Abu Dhabi at UFC 112
FIRST EVER OPEN-AIR EVENT TAKES PLACE IN UAE APRIL 10

Abu Dhabi, UAE – The world's greatest indoor sporting event goes outdoors on April 10 as the Ultimate Fighting Championship® organisation lands in Abu Dhabi in the United Arab Emirates for the first time.

Some of the world's greatest mixed martial artists will appear on the historic open-air UFC 11 event at the Concert Arena, Ferrari World, Yas Island.*

Topped by a double main event, two UFC world titles will be on the line at UFC 112. First, UFC lightweight champion BJ 'The Prodigy' Penn puts his belt on the line against No.1 contender Frankie 'The Answer' Edgar and then UFC middleweight king Anderson 'The Spider' Silva defends his crown against fellow Brazilian striker Vitor 'The Phenom' Belfort…
UFC President Dana White said: "This is one of the biggest and most significant nights in the history of the UFC. UFC 112 is our first ever outdoor event and it is taking place in the hometown of our brand new partners, Flash Entertainment. We are very happy we could deliver what fans around the world will recognise as a stacked card featuring the sport's biggest stars."

"
Anderson Silva
is back in the Octagon(TM), and back at 185lbs to defend his belt against maybe the one guy he may want to take the fight to the ground with.
Vitor Belfort
has recaptured the form which saw him rip through heavyweights and light heavyweights a decade ago, and Silva vs Belfort is one of those fights where, if there was a roof for this event, it would come off just before the start of the first round."**
"
BJ Penn
is another UFC champion who is looking unstoppable right now, but
Frankie Edgar
is improving so quickly and has such an attacking style that he may be the guy to end BJ's reign.***
"Plus,
Matt Hughes
vs
Renzo Gracie
is a clash between two legends who each have a lot on the line in this fight. The winner adds another great name to his list of victims and gets right into the title hunt."
John Lickrish****, Managing Director of Flash Entertainment, said: "UFC 112 is going to be incredible. Flash and the UFC have been working very hard to bring this event to fruition, and we're delighted to now announce what will truly be a great night of sport in Abu Dhabi.

"Abu Dhabi has a long tradition of mixed martial arts, and hosting UFC 112 continues the country's love and passion for the sport. We really can't wait to welcome these elite athletes, and showcase a truly magnificent sport to the people of the region."
* Scheduled to open sometime this year, Ferrari World is set to be the world's largest indoor theme park, and will feature the world's fastest roller-coaster. Though the park is still being completed, the concert arena has been in operation since last fall, and has hosted performances by Aerosmith, Beyoncé, and Kings of Leon. Yas Island is a half-hour drive from Abu Dhabi city.
** The original roof of the Ferrari World Concert Arena blew off in October '09, when Beyoncé went from "Crazy in Love" directly into "Single Ladies (Put a Ring on It)."
*** And if your aunt grew balls, she may be your uncle.
**** "Please direct all media inquiries to my assistant, David Twisler."