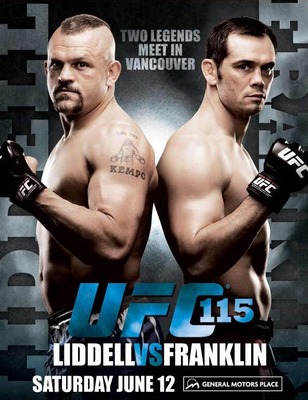 Here we go with tonight's liveblog for
UFC 115: Liddell vs. Frankli
n, which will attempt to answer a plethora of burning questions. Do abs make you a better fighter? Does shaving off your porn stache give you a better chin? Will
Tyson Griffin
finish his third UFC opponent? Will
Pat Barry
be able to reach
Cro Cop'
s melon with a head kick?
We'll soon know the answers to these questions and many more. Remember to refresh often.
Let's kick it.
UFC 115 Results:
Main Card (PPV):
Rich Franklin def. Chuck Liddell by KO 4:55 R1
Mirko "Cro Cop" Filipovic def. Pat Barry by submission (rear naked choke) 4:30 R3
Martin Kampmann def. Paulo Thiago by unanimous decision (30-27 all)
Ben Rothwell def. Gilbert Yvel by unanimous decision R3
Carlos Condit def. Rory MacDonald by TKO (strikes) 4:53 R3
Prelims (On SPIKE TV):
Evan Dunham def. Tyson Griffin by split decision (28-29, 30-27, 29-28) R3
Matt Wiman def. Mac Danzig by submission (guillotine) 1:45, R1
Prelims (Non-televised):
Mario Miranda def. David Loiseau by TKO (strikes) 4:07, R2
James Wilks def. Peter Sobotta by unanimous decision (30-27, 30-28, 30-27), R3
Claude Patrick def. Ricardo Funch by submission (guillotine) 1:48, R2
Mike Pyle def. Jesse Lennox by submission (triangle) 4:44, R3
———-
Pay-per-view play-by-play

Carlos Condit vs. Rory MacDonald
Goldie informs us that MacDonald was just 13 and wouldn't begin training until one year later when Condit had his first pro bout. MacDonald is one of the first of the new breed of pure MMA-trained fighters who didn't start training in any one particular discipline.
This fight has "Fight of the Night" written all over it. MacDonald has the hometown crowd behind him.
Round 1
MacDonald moving forward catches a Condit kick and drops the American on his back. Beckoning him to his feet, MacDonald connects with a right hand and takes Condit again to the mat. Working in Condit's rubber guard, MacDonald stays active, trying to pass. Frustrated he stands up and almost immediately eats a punch. Recovering, he lands a stiff jab of his own, following up with a flying knee and again picks up and drops the former WEC welterweight champ on his back. Unable to do anything in Condit's guard, he stands up and avoids any damage from Condit's knees in the clinch. A few teeps and body kicks do little more to MacDonald than score points. A leg kick by Condit is negated by Another Macdonald shot and takedown at the buzzer.
CP scored the first round 10-9.
Round 2
MacDonald comes out swinging and connects, making Condit tentative. Grabbing Carlos' leg, MacDonald turns the corner, forcing Condit on his back again. A Condit knee finally lands flush on MacDonald's cheek. The pair exchange jabs and Condit scores with another leg kick. Condit avoids a kimura and ends up almost mounted. Using partial butterfly guard, he sweeps Condit and is content to rest in his guard. Condit uses the meat hook (I train 10th Planet, too). Missing with a spin kick, Condit is pressuring now, but MacDonald is putting together his combinations seamlessly. Condit just can't seem to find his range. Avoiding a superman punch, Condit finally scores with a jab – his first in almost half a round. At the bell, both men attempt and land front kicks, but MacDonald's seems to do more damage, knocking Condit down.
Round 3
MacDonald comes out strong, landing a knee and head kick, and follows up with a combination. Condit finally gets the Canadian to the ground. Capitalizing on the rare advantage, he lands at will with elbows and punches from the mount. MacDonald tries to sweep, but is taking a ton of damage,. Back on his feet, MacDonald seems hurt and tired. Condit takes MacDonald back down and continues the onslaught of elbows. Rory's eye is swelling at a rapid rate. Riding out the attack, he takes his lumps and, like a seasoned vet, doesn't lose his composure. After a handful of shots land from the top, referee Kevin Doran steps in with second seconds left, in spite of the fact that MacDonald is still moving and remaining active in defending himself. Questionable stoppage, IMO.
Condit def. Rory MacDonald by TKO (strikes) 4:53 R3
———-
Ben Rothwell vs. Gilbert Yvel
Gilbert "The Dirtiest Fighter Alive" Yvel walks out with a shit eating grin on his mug. Rothwell isn't doing himself any favors by coming out to Nickelback, though. Now he's even with Yvel on the douchebag meter.
Round 1
Bum-rushing Yvel, Rothwell bullies "The Hurricane" into the fence, landing a combination in the process. Yvell drops down for a guillotine while Big Ben takes him down. Working off his back, Yvel is able to sweep and regain his feet, only to be slammed by the rotund IFL vet. With knee on belly, Rothwell works into side control and loses dominant position as Yvel rolls him off and regains his feet momentarily. With his back against the fence, Yvel tries to wall-walk, but ends up on his back again with Rothwell in side control. Gilbert goes for a heel hook, but the KFC grease on Rothwell's ankles make it impossible. Yvel again shrugs Rothwell off, using a butterfly sweep to escape the mounted crucifix. Landing with a knee and a handful of punches, Yvel rocks Rothwell and the round ends before he capitalizes.
Round 2
Faking a hook, Rothwell ducks and clinches Yvel around the waist, taking the kickboxer down again. Avoiding a half-assed triangle, Rothwell softens Yvel up with body punches and elbows. An ill-timed roll puts Yvel on his back with Rothwell in full guard. Without doing much damage, Rothwell inexplicably lets Yvel stand up. Again, Rothwell drops him on his back, but Yvel escapes being mounted by using an Americana sweep. Dropping bombs from the top, Yvel hurts Rothwell and continues to shake the Macys Santa look-alike's brain with solid punches. Rothwell finally is able to grab onto Yvel's right glove and eats a few more punches before Rothwell gets a sweep of his own. The round ends as quietly as it started.
Round 3
Rothwell immediately takes Yvel down and works to get a dominant position. After a whole lot of snuggling and a few knock-knock jokes, Rothwell finally tries for an Americana but relinquishes the hold when the sugar rush the Mountain Dew he chugged between rounds wore off. Yvel lays on his back and takes it like he's married to an Ortiz. Rothwell rubs his Buddha belly against Yvel's for good luck and pulls out the round.
Ben Rothwell def. Gilbert Yvel by unanimous decision R3
———-
Paulo Thiago vs. Martin Kampmann
Round 1
Kampmann seems nervous. Thiago has power in both hands, so I don't blame him. Both fighters seem to be reluctant to engage. After a minute, Kampmann finally lands first with a right jab. He throws a straight right counter when Thiago moves forward. Absorbing a leg kick, Kampmann lands another straight right and coolly moves his head from side to side to avoid Thiago's combination. Landing again with the straight right, Kampmann avoids a subsequent single-leg takedown attempt by Thiago and continues to outbox the Brazilian. Martin drops Paulo with another straight right, but fails to pull the trigger. Thiago takes the fight to the ground but gets caught in a Kampmann guillotine. Working out of the hold, Thiago gets to his feet and attempts a gullotine of his own. Kampmann rolls out and tries for a Brabo choke, but Thiago gets out and the round ends.
Round 2
Thiago now seems like the nervous fighter. Bouncing on his toes, he is looking for the opening to land the finishing punch. Kampmann connects with a leg kick and exchanges a handful of punches with his opponent. Thiago is swinging for the fences now, but Kampmann seems to be a step or two ahead of him. A mouse is swelling under Paulo's right eye. Kampmann takes Thiago to his back with a single and works to take his back. Thiago slips his arm around for a left-side kimura but as Joe Rogan points out, Kampmann doesn't have control as his leg is under his own body instead of around Thiago's hip. Exactly as predicted, Thiago sweeps and moves into side control, but it's too little too late as the round ends.
Round 3
Kampmann is looking to reconnect with Thiago's face with the jab. Failing that, he again takes Thiago to the mat and works to push him into his corner. Partially taking Paul's back, Kampmann attempts an arm triangle, but can't lock his hand to bicep. Thiago rolls out of danger, but Kampmann maintains control and eventually ends back up on top in north-south, attempting a side-choke. As the two men get back to their feet, they connect knee to knee. Kampmann asserts his grappling dominance yet again and drops Thiago back on his ass. Diligently working the arm triangle , Kampmann ends the round as he begins it, in complete control.
Martin Kampmann def. Paulo Thiago via unanimous decision (30-27 all)
———-
Mirko "Cro Cop" Filipovic vs. Patrick Barry
No Techno Viking entrance for Pat "HD" Barry, but I'll let it slide since he came out to Walk this way by Run DMC and Aerosmith. I remember strutting around the schoolyard with a ghetto blaster on my shoulder to that classic.
Mirko goes with his standard "Wild Boys" by Duran Duran. A kid we went to school with did a dance number to that one in middle school. He now lives as a woman. Not that it's a gay song or that there would be anything wrong with it if it were.
Round 1
Both men put their heads down and begin to throw. A few inconsequential shots make contact, but one by Barry lands and knocks Cro Cop on his ass. Barry lands with a few leg kicks, but Mirko tries to get too fancy with a hook kick and pays for it as he lines back up, eating a right jab. Barry seems much faster. Cro Cop's demeanor has changed drastically and he seems hurt. Relying on side flick kicks and hook kicks, Cro Cop says "F this" and tries to take Barry down, but Barry makes space and tries a head kick and misses. Filipovic's left cheek looks jacked. The pair give each other high fives and embrace and the round soon ends.
Round 2
Mirko comes out the aggressor this time around, throwing and just missing with a head kick and landing a body kick, before chasing Barry down with a bum-rushing combination. Barry misses with a head kick attempt and is taken down by Cro Cop who tries for an immediate guillotine. Barry tries to roll out of danger after shrugging off the choke, but ends up mounted. Sweeping, "HD" gives up his back and pushes his Croation counterpart into the fence, riding out the round.
Round 3
Cro Cop lands first with a fancy looking, yet basically non-effective axe kick, but Barry again knocks the "Wild Boy" on his rear end with a perfectly timed right. Barry seems tired. Mirko begins to take control, connecting with a straight left and right uppercut. Pinning Barry against the fence, Cro Cop lands with a pair of hooks. After a break by Yves Lavigne, Barry gets rocked by a combo and then rides out the storm of Cro Cop short punches while clinching Mirko, but makes the mistake of giving up his back by turning away from instead of into Filipovic when attempting to shrug him off. Cro Cop wastes no time in capitalizing on the lapse and sinks in a tight rear-naked choke, eliciting a tap.
Mirko "Cro Cop" Filipovic def. Pat Barry by submission (rear naked choke) 4:30 R3
———-
Chuck Liddell vs. Rich Franklin
Franklin doesn't have that "Holy Fuck! What have I gotten myself into?" look that he had against Anderson both times, which is a good start. It's worth noting that Rich has only lost two fights at 205 — one by TKO to Lyoto Machida and one by (questionable) decision to Dan Henderson.
Interesting to hear that Chuck hasn't had a drop of booze in a year. I guess Jose Canseco's ex really is a good influence on him, other than his musical taste. Eminem? Really, Chuck?
Round 1
Liddell is stalking Franklin, but can't avoid a legkick. Chuck throws a headkick and lands with a body kick that makes Rich grimace. They trade and both shuck and roll out of reach of each other's punches. Chuck takes a page out of Randy Couture' book and takes Rich down and folds him up against the fence. As Franklin makes enough distance to stand up by walking up the cage, a cut on Liddell is revealed on the bridge of his nose. Liddell stuns Franklin momentarily, but doesn't pull the trigger. They trade and Franklin seems to be getting the worst of the exchange, but as he drops underneath a huge right, the former math teacher connects with a calculated straight right, turning Liddell's lights out. Following up with a pair of unnecessary punches that may have woken Chuck up and put him back to sleep, Franklin takes the fight by KO.
In the post fight interview, Franklin reveals that the body kick that made him yelp broke his arm, proving that he's a real warrior.
We have likely seen the last of Chuck in the Octagon, which means we'll likely see a lot more of him on TMZ. My gym is bringing "The Iceman" in for a seminar in a couple weeks. I have a feeling he's going to be a lot less jovial now. I guess I won't make any WalMart greeter jokes within earshot.
Rich Franklin def. Chuck Liddell by KO 4:55 R1
Round 2
Round 3