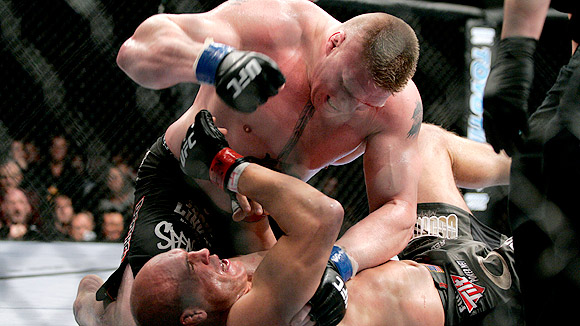 (Oh, masturbation punches, how we've missed you… / Photo courtesy of ESPN.)
According to Heavy.com, Brock Lesnar is back on his feet after a nasty case of diverticulitis, and the UFC is targeting July as a potential return date for the heavyweight champ; Lesnar's long-delayed bout against Shane Carwin could headline the UFC's first show in Boston.
Well, that's their hope, anyway. Though Lesnar is indeed recovering, his trainer Greg Nelson told MMA Weekly that he's not sure when Brock will be able to start training again — and he's definitely not sure when he'll be healthy enough to fight. Right now, Lesnar is simply healing up in a pissed-off fashion. Said Nelson: "Mentally, he wants to get back in there. He wants to jump in. You get a guy like that who's used to being able to do whatever and moving around and train, throw hay around, whatever he wants to do, then you're stuck inside your house…that's tough. Mentally, it's tough."
And it's not just tough on Lesnar. Frank Mir has become so obsessed with the idea of beating Lesnar in a rubber match that the news of Brock's illness put the zap on his brain: "When he got sick it screwed up my training because he was such a driving force for me," Mir told the Las Vegas Sun. "I went into a depression for two to three days where I didn't go to the gym, I got sick — I drove myself insane thinking we may possibly not fight again. I couldn't live with that." Our advice to Frank? Live with it. You have a big fight in two days. Losing to a guy who you've talked nothing but trash about, now that's something you wouldn't want to live with.