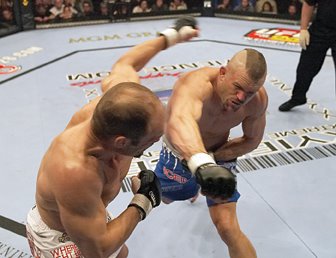 Dave Meltzer over at Yahoo! Sports has his own version of FMK today. The contestants being MMA, boxing and pro wrestling (okay, it's impossible to properly play FMK with an entire sport, but go with it). He rambles on for what seems like hours and covers much of what we already know – that MMA is growing rapidly, but douches like Mayweather and De La Hoya keep boxing at the forefront with their hordes of mindless fans. And rednecks keep procreating at a rapid pace, thus keeping pro wrestling afloat.
However, he does a decent job of breaking down the numbers, mainly the TV stats. While the PPV numbers are not yet available for UFC 78 and 79 (how long does it take them to print out their numbers anyway?), the expectations are that both events will be in the top 15 PPV events of the year. Why top 15, you ask? Because that's what Meltzer's Wrestling Observer gave us:
1. Boxing: Oscar De La Hoya/Floyd Mayweather, May 5: 2,400,000
2. Boxing: Mayweather/Ricky Hatton, December 8: 850,000
3. WWE: Wrestlemania, April 1: 760,000
4. UFC: Chuck Liddell/Quinton Jackson, May 26: 675,000
5. UFC: Tim Sylvia/Randy Couture, March 3: 540,000
6. UFC: Couture/Gabriel Gonzaga, August 24: 520,000
7. UFC: Liddell/Keith Jardine, September 22: 475,000
8. UFC: Tito Ortiz/Rashad Evans, July 7: 425,000
9. UFC: Anderson Silva/Travis Lutter, Feb. 2: 400,000
10. UFC: Georges St. Pierre/Matt Serra, April 7: 400,000
11. Boxing: Manny Pacquiao/Marco Antonio Barrera, October 6: 350,000
12. WWE: Summerslam, August 26: 344,000
13. Boxing: Miguel Cotto/Shane Mosley, November 10: 340,000
14. UFC: Anderson Silva/Rich Franklin, October 20: 325,000
15. WWE: Royal Rumble, January. 28: 314,000
Meltzer also tries to make a point about overexposure:
There is a business lesson from pro wrestling over the past few years that UFC should heed. WWE increased from 12 to 16 pay-per-view events, and the results of the overexposure were such that they are cutting back to 14 this year. UFC's current schedule (running major events on Dec. 29, Jan. 19, and Feb. 2) is the type of schedule that caused the WWE base audience to begin to pick and choose between events. It's a slippery slope that becomes a difficult rebound. This is not as much a factor to boxing, because few boxing fans buy every show, with most picking and choosing only the big-name fights. UFC, like WWE, sells almost as much on the brand name as the main events, drawing a regular monthly crowd.
I can see the point, but with the growth pace the sport has seen and the competition among the crowded field of organizations, can the UFC afford to cut back? Plus, they have 8 out of the top 15 and are expected to add UFC 78 and 79 when the numbers are available. So Meltzer pats the back of the UFC and scolds it in the same article. He goes on to mention the strongest rivals of the UFC:
But with all the talk of MMA being the next NASCAR, or the replacement for boxing, the only true success story of the MMA industry on a national basis has been UFC. The IFL started out with strong television on MyNetworkTV, but its ratings faded most of the year and only a weak FOX Sports Net is a partner for 2008. Bodog Fight spent millions in promotion and came out with little, losing its television after poor ratings on the Ion Network, and hasn't had any television outlet for months. Elite XC purchased one smaller organization after another, but was a huge money loser and has not established itself as the Avis of the genre. It has specials on Showtime, but no clearance to hit the true national market. WEC is really just a UFC subsidiary, and while their ratings on Versus have grown, they are far from being a nationally known secondary brand. If they become one, it really only furthers the UFC domination of the market.

All three UFC rivals start 2008 needing to turn around their business fortunes or face a bleak long-term future. Also in the North American mix is M-1 Global, which held a big press conference announcing the signing of Fedor Emelianenko and talking about more big signings and a possible television deal. But they have been largely quiet ever since, with no date even announced for a first show.

The wild card is Mark Cuban's HDNet. The network committed to 24 live events in 2008, working with a number of different promotions. Just this past week HDNet aired both the IFL finals and the Japanese New Year's Eve Yarennoka show live. Today, the station doesn't have enough clearance (being in less than 6 percent of the country's homes) to be a significant factor. If HDNet becomes this decade's version of the first wave of major cable stations in the '80s, that will greatly change the makeup of the sport. But that won't be happening in 2008.
He also makes the oh so bold prediction that MMA fighters will earn more and get better in 2008, while saying that the stars that made the UFC so popular in recent years (like Liddell, Couture and Hughes) need to be replaced by the new stars like GSP and Rampage. We do like his thoughts on Mark Cuban and if you've been following this guy since he became an overnight gazillionaire, you know he has a winning track record. I expect HDNet to make this happen sooner, rather than later. MMA forever.