(Skirting the Unified Rules, Lil' Emel uses the Force Choke to incapacitate his opponent)

For years now, fans and reporters have hypothesized that Fedor Emelianenko is some mystical being whose powers were not of this world — a Jedi, perhaps.
It seems that his younger brother, Aleksander, has similar gifts.


Squaring off against Eddy Bengtsson at a ProFC event in Moscow this weekend, Aleks left his opponent temporarily paralyzed and writhing on the canvas by barely touching him on the face.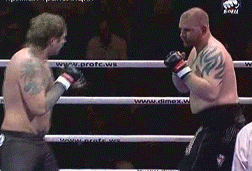 The force is strong in this one. It's a shame he left M-1 and allegedly turned to the dark side. He could have gained the Russian Mafia Alliance a lot of money power.