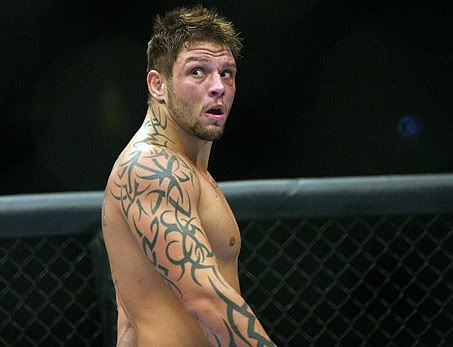 We already dished out our thoughts on the World Cagefighting Organization's event set to enter the cage tonight in San Diego. According to Sherdog, the WCO's weigh-in took over five hours yesterday – and when all was said and done, two fights were dropped from the fight card. Luckily for people who relish watching things like Britney Spears' many public meltdowns, or smile at the trainwreck that is Danny Boneduce, there are still some great circus acts left on the card. eBay vet and addict Ricco Rodriguez will still battle Mike Kyle, who is fighting for the first time since his attempted murder of Brian Olsen after their fight was already decided, is 9-5-1 to Ricco "not-so-sauve" Rodriguez's 27-7. Kyle was suspended by the CSAC after his incident, even though they did not sanction the fight.
Renato "Babalu" Sobral, the occasional prisoner and disgraced ex-UFC fighter, will face Vernon White in the main event. Obviously, someone hates Vernon White and wants to see him killed in the bout. Why else would the journeyman and his 25-32-2 record be thrown into the pit with the blood-thirsty Babs? Another ex-UFC fighter, David "The Crow" Loiseau, will face Leopoldo Serao, which will be both fighters first fight since last May.

And it seems that where there's smoke these days, there's Ken Pavia – who calls himself "The Pav" on his myspace page. His fighters were involved in both fights that vanished from the card. One was Tiki Ghosn and his multi-colored beard, who lost his fight when JJ Ambrose didn't show his face at the weigh-in. Ghosn was looking for a chance to avenge his four straight losses. Carmelo Marrero is Pavia's – sorry, "The Pav's" – other client who won't be in the cage because he refused to battle Vinicius Magalhaes on short notice. This fight was not in original reports, nor was it on the WCO's website, so it must have been in the works when they got a sniff that some of the other bouts were on shaky ground.
The rest of the card – unless it changes again before tonight – which is very possible:
-Mark Kerr vs Kauai Kupihea (replacing Rick Roufus, who couldn't get licensed for the fight – what the hell did he do?)
-Jimmy Ambriz vs Wesley "Cabbage" Correira
-Joe Riggs vs Gustavo "Ximu" Machado
-Virgil "Cornhusker" Zwicker vs David Meja
-Fabio Costa vs Carlos Fuentes
-Georgi "Insane" Karakahyan vs Armando Sanchez
-Tony Sylvestor vs Cain Velasquez
-Megan "The Mouth" Gangitano (her debut) vs TBA (guess they're planning on getting someone in the crowd to fight her)
Sink or swim, the WCO is going to put this thing on tonight. If you want to check it out live, you can watch it on internet PPV. Just head over to Ringside Junkie where you can purchase the 10 PM (ET) event for $4.95. It's $7.95 after 8 ET/5 PT (PM).
UPDATE: And now it's canceled, for reasons unrelated to weight-loss. As CSAC executive director Armando Garcia told MMAWeekly, "It was determined at this late hour that there were insufficient funds for the fighter purses and to cover expenses and everything." The Weekly goes on to report:
Several fighters indicated that they were approached to tear up their current contracts and sign new agreements that would pay them $100 for fighting on the event and then sign a separate agreement that would make up the difference between the $100 and their originally agreed upon purse in what would be dubbed an "appearance fee" to be paid at a later date. Garcia told MMAWeekly.com that when he found out about the re-worked contracts, he determined that the commission could not support that idea.
Damnit! Ricco needed that $100!