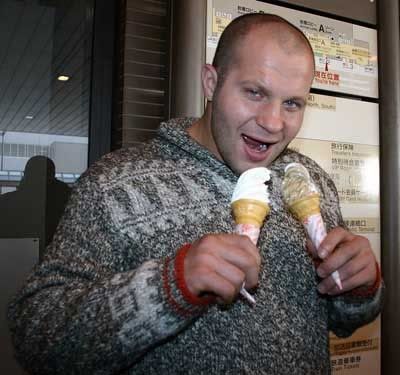 (The classic taste test.)
Seriously, can we just push Fedor Emelianenko and Randy Couture into the alley behind Bed, Bath & Beyond and let them beat the shit out of each other? That's all we want. Let's just do this. We've heard about The Natural's numerous UFC legal tangles that stemmed from Couture's efforts to set up a fight with Fedor, and recently Fedor's free agency details have also started to surface. And while we're talkin' contracts, did Fedor even have one with M-1 Global? Apparently not, according to Sherdog:
The Russian heavyweight's only agreement with the company — according to the source, who spoke on the condition of anonymity — came in the form of a letter of intent.

The return of a $1.5 million signing bonus paid by M-1 Global to Emelianenko is the only hurdle to the former Pride champion's potential free agency. That should be remedied this week, the source said.

M-1 Global CEO Monte Cox declined to comment.

Once Emelianenko is clear of his M-1 obligations he is expected to field offers from several MMA promotions. The early leader, according to the same source, comes from the purported partnership between Affliction and Oscar de la Hoya's Golden Boy Promotions, which Sherdog.com has learned could debut on June 28.
So the possible Randy/Fedor fight plot thickens. Golden Boy did not comment either, but a source claimed that Fedor would get $1.5 mill for a fight with the organization and his managers would get the TV rights in Japan and Russia. The report also claims that Fedor's bro — Aleksander — will probably sign with Affliction along with Matt "Movie Screen Forehead" Lindland (previously reported).
So the official contract between Fedor and M-1 was reportedly never signed by the Russian heavyweight. But what does it mean if I forged my uncle's name on my apartment lease? Am I cool with skipping the April rent? Sweet.