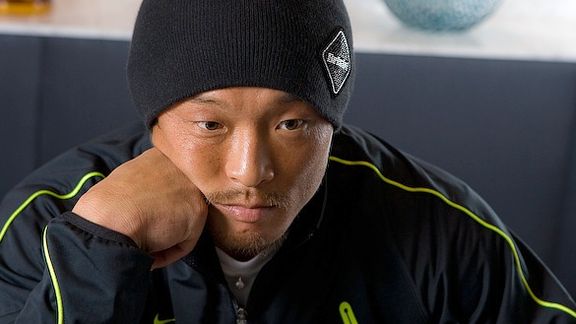 (Akiyama's next fight just went from "Beauty and the Beast" to "Beauty and the Average-Looking Guy." *You* try to sell that. / Photo courtesy of ESPN.)
If you're heartbroken that Wanderlei Silva won't be competing at UFC 116 next Saturday due to injury, well, Yoshihiro Akiyama feels your pain. In fact, he's so unimpressed by the idea of Chris Leben coming in as a replacement that he doesn't even want to fight anymore. From daum.net via BloodyElbow:
"I am not pleased with the change. There are just ten days left until the contest for me to determine [Chris Leben's] threats and the time is insufficient to establish a tailored gameplan. Leben is also not as high-profile as [Wanderlei] Silva and that does not help me."
"If there is to be a replacement I was hoping for a big name. I spent one year preparing hard for this fight and this news has come as a big disappointment, my motivation has waned. I do not know yet what will happen…In the worst case, I will not take part in the [UFC 116] event. We are working hard to resolve this issue."



I guess it shouldn't surprise us that this guy is having a diva moment. But I don't think he really has a choice at this point. Leben had enough warrior spirit to step up — two weeks after a battle with Aaron Simpson, mind you — and unless Akiyama wants to get on the UFC's bad side, he'll go through with the fight. Still, even Leben himself had misgivings about the match, for different reasons:
"At first I said no because I woke up in the morning, my phone was ringing and I was sore and it doesn't make sense to take a fight when you're not prepared and training for it. But then as I thought about it, you know, I'm a fighter, this is what I do. Why would I not take a great opportunity? It would be stupid of me. Not to mention that but I want to be a company man with the UFC, I want them to be happy with me."
"I don't know a ton about Akiyama. My coach knows a bunch, but we haven't even had a chance to talk much about our game plan. I saw him fight Alan Belcher and to be honest with you, I thought he lost that fight. He's a good Judo guy, he's got great Judo, fast kicks, maybe not the most power in the world. He's a little bit shorter than me but he's a good strong guy. I think that utilizing my skills, keeping it on the feet and clubbing him in the head with my left shouldn't be too much of a problem."
And that's precisely the difference between these two fighters: When presented with a replacement opponent, Akiyama needs time to formulate a new gameplan. But no matter who he's fighting, Chris Leben's plan is going to be exactly the same — stand in the pocket and fire away with his left hand. That's all you need to know, Yoshihiro. Now sack up.