(No glove, no love for Royce.)
When we first heard that one and done boxer-turned-MMA fighter Art Jimmerson was campaigning for a rematch with Royce Gracie at UFC Rio in August, we were skeptical, considering what happened to the single glove-wearing fighter at UFC 1. It didn't help that the so-called "proof" that the fight was in the works was the fact that Jimmerson's profile had inexplicably appeared on the UFC's website. Harold Howard and Joe Son also have profiles on the site, and it's unlikely they'll get a weekend pass from prison to compete on the card, so the story seemed like it might be bullshit.
Well, it appears the rumors are true — at least that Jimmerson is pushing for the fight.
Jimmerson, who is more of a UFC footnote than a notable fighter, sent along the photos of himself above and below to fullmount.co.uk that picture him wearing his trademark left glove and a UFC gi. Apparently the 47-year-old who retired from boxing with a 33-18 professional record wants a chance at redemption and the opportunity to retire from MMA with a .500 record.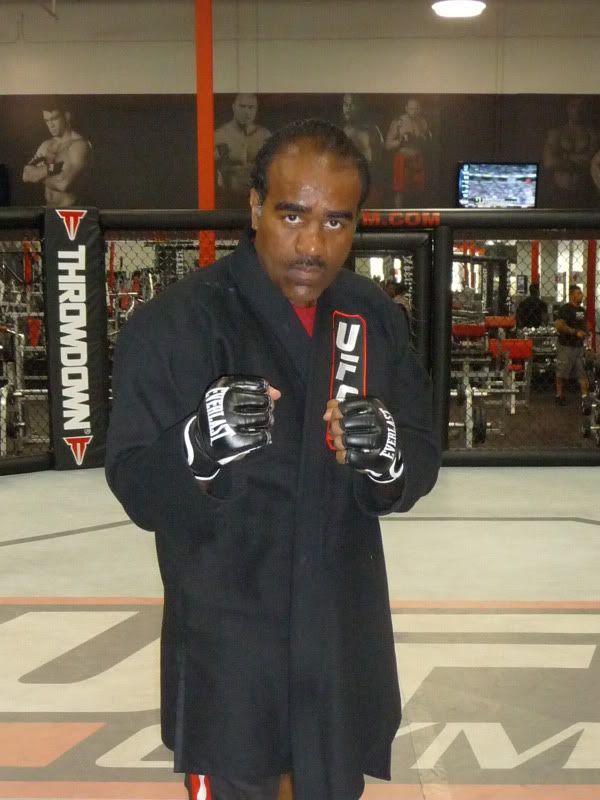 Jimmerson sent the following message via email to Full Mount's Craig Devlin about the prospective fight:
"Now, I am a totally different fighter from 16 years ago! You can't be around Water and don't get WET! Yes, I've learned so much more about MMA since I've been working [at the UFC Gym] I want to stay as close as we can to the Original Rules! I AM IN GREAT SHAPE! I will DEFINITELY BE MORE AGGRESSIVE! I WILL THROW MORE PUNCHES AND FIGHT MY FIGHT! Royce will not dictate this one! I will not allow him to take me to the GROUND! Yes, I WILL WEAR THE OTHER GLOVE GOD Bless, And As Alway's, JESUS IS LORD!"
Gracie's profile is listed on the site as well, but the difference is it's posted under the list of current middleweight fighters. I'm not big on Royce fighting on the card, but having him fight Jimmerson wouldn't be a throwback fight; it would be a specatcle.